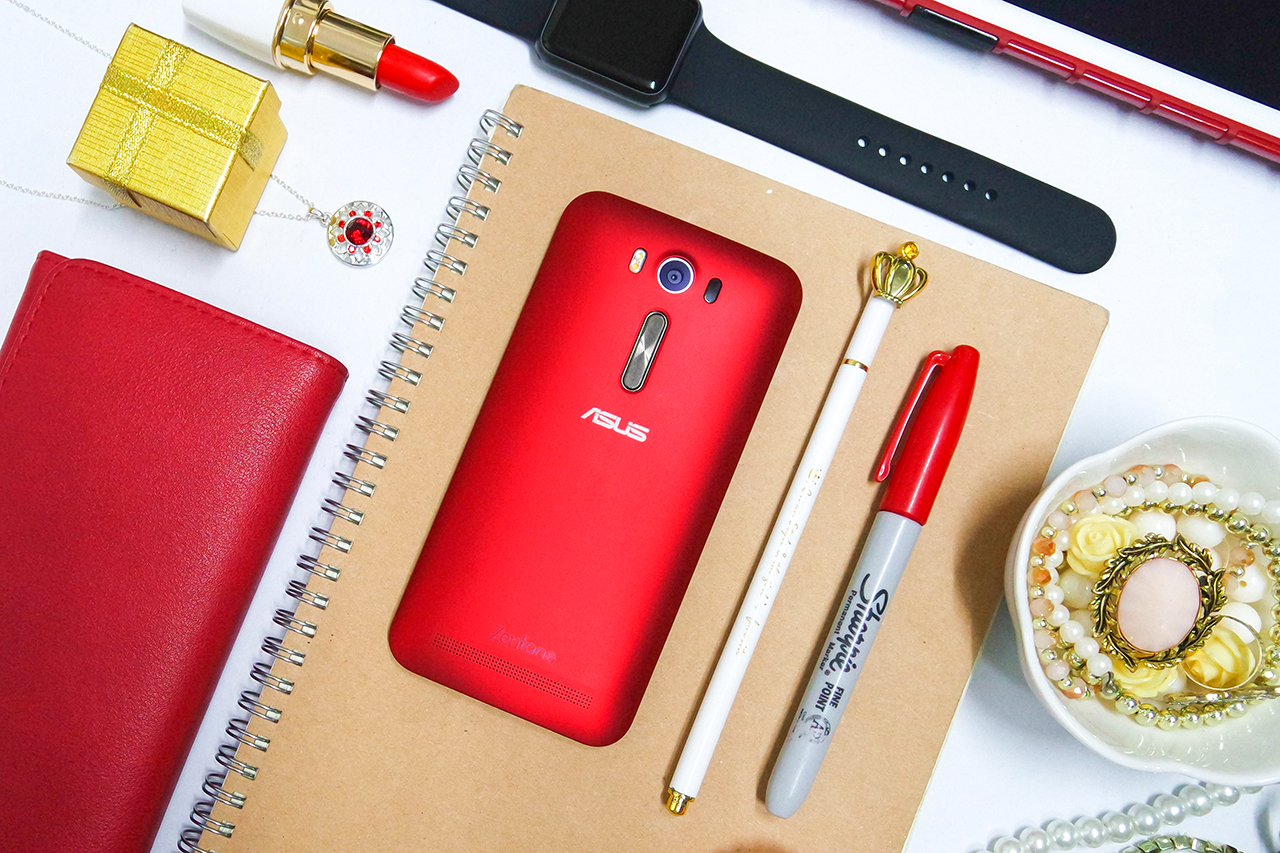 I've been thinking of replacing my phone since August but I couldn't get myself to doing so because of practical reasons. I was actually saving up for a new one and planning to buy this Christmas or early next year when this ASUS ZenFone 2 Laser came just in time! YAY!
If you're following me on Instagram, you've probably seen my post before unboxing this baby. Anyway, I've had a couple of weeks road-testing this phone and it's about time that I share a review of this amazing gadget. Below is my unboxing video with overview and first impressions. Go ahead and watch it!
I got mine in Glamour Red which I love because it's so pretty and feels so much like Christmas! Hee. The handset comes with a warranty card, a user guide, an ASUS-built charger adapter, an ASUS micro-USB to USB data cable, and ASUS headset with extra earbuds (which is so generous of them).
Pretty & Though
The ASUS ZenFone 2 Laser 5.0 has a sleek design; the back cover features an exquisite hairline design with a metallic finish. With seven colors to choose from, you'll definitely find one that suits your style.

The design is not just beautiful but also ergonomic. It has an arc design with curved back and thin edges. The thinnest edge measures just 3.9mm. The curve design provides best grip and ultimate comfort as it perfectly fits your palm.

The back cover's texture is nice; it's not overly smooth; it's like a casing with matte finish. That, plus the best grip, prevents you from accidentally dropping your phone.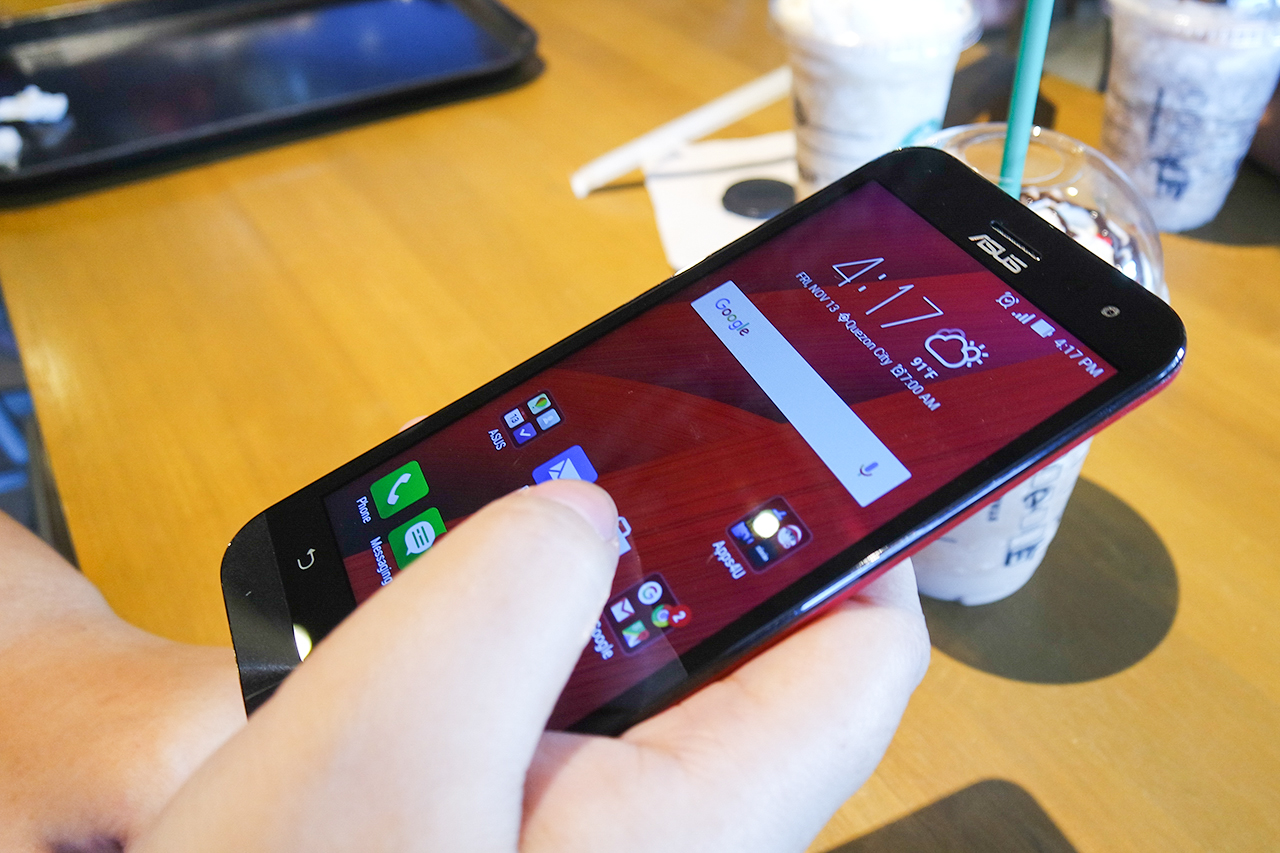 Following its ergonomic design, ZenFone 2 Laser has a back rear key which can be used to adjust the volume or to take a selfie.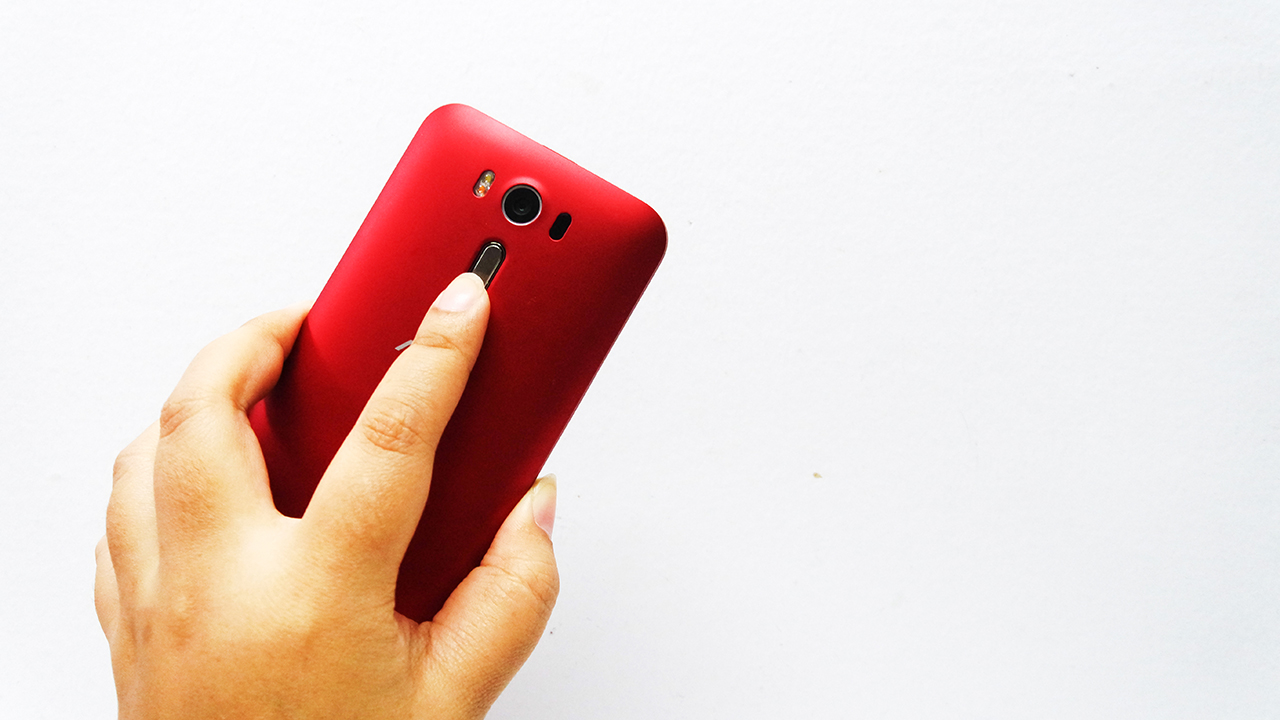 ASUS's trademark concentric circle design can be seen on the rear key, power button, and under the capacitive touch buttons of the ZenFone. This, combined with the other design elements, makes the ZenFone 2 Laser a very sophisticated smartphone; it looks more expensive than it actually is.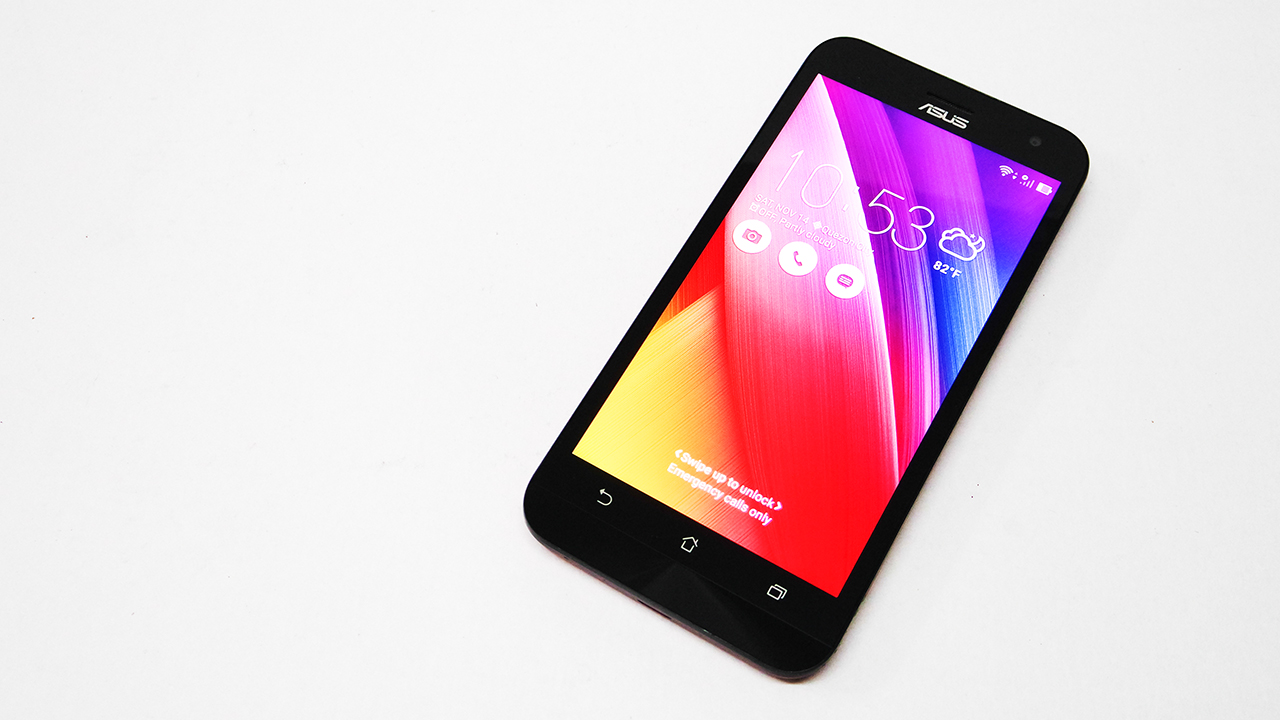 ASUS ZenFone 2 Laser has bright, clear, and vivid display thanks to its 5.0-inch HD (720x1280p) IPS display. It has wide viewing angles up to 178° and a screen-to-body ratio of 72%. The readability is definitely great, even outdoors and under sunlight. And with  its Corning Gorilla Glass 4 protection, you don't have to worry about accidental damages to your phone's screen. Also, no need to spend extra on screen protectors! ZenFone 2 Laser is probably the only smartphone in its price range that offers this super though screen protection.
If only the casing was made of a sturdier material, it would be perfect. Though I don't really mind getting a case for added protection.
This phone's sensitivity is great. Touch is fast and responsive with no lag feeling, especially when clicking and dragging screen icons.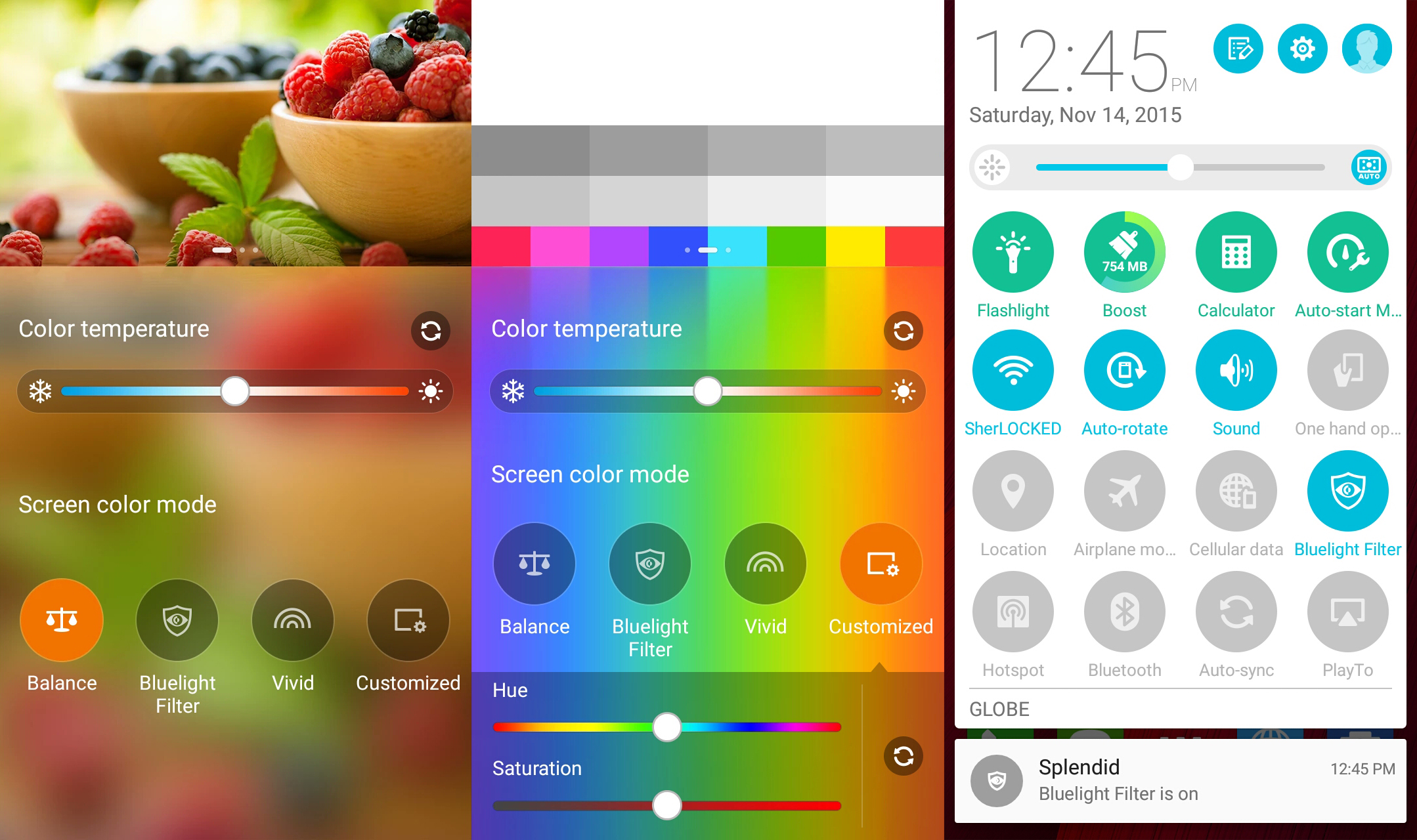 I also love the built-in ASUS Splendid app as it allows the user to modify the ZenFone's color display settings in an advanced level. The Blue-Light Filter reduces the blue-light emissions by up to 30% and enables you to use your smartphone longer without straining your eyes. This is perfect for me because I like reading e-books and lots of web articles on my phone.
See What Others Can't See
The ZenFone 2 Laser features the ASUS PixelMaster 2.0 technology. With f/2.0-aperture Toshiba lens, the ASUS PixelMaster camera produces brighter photos even in low-light environment. It integrates five brightness-enhancing lenses for excellent optical performance and distortion-free photos.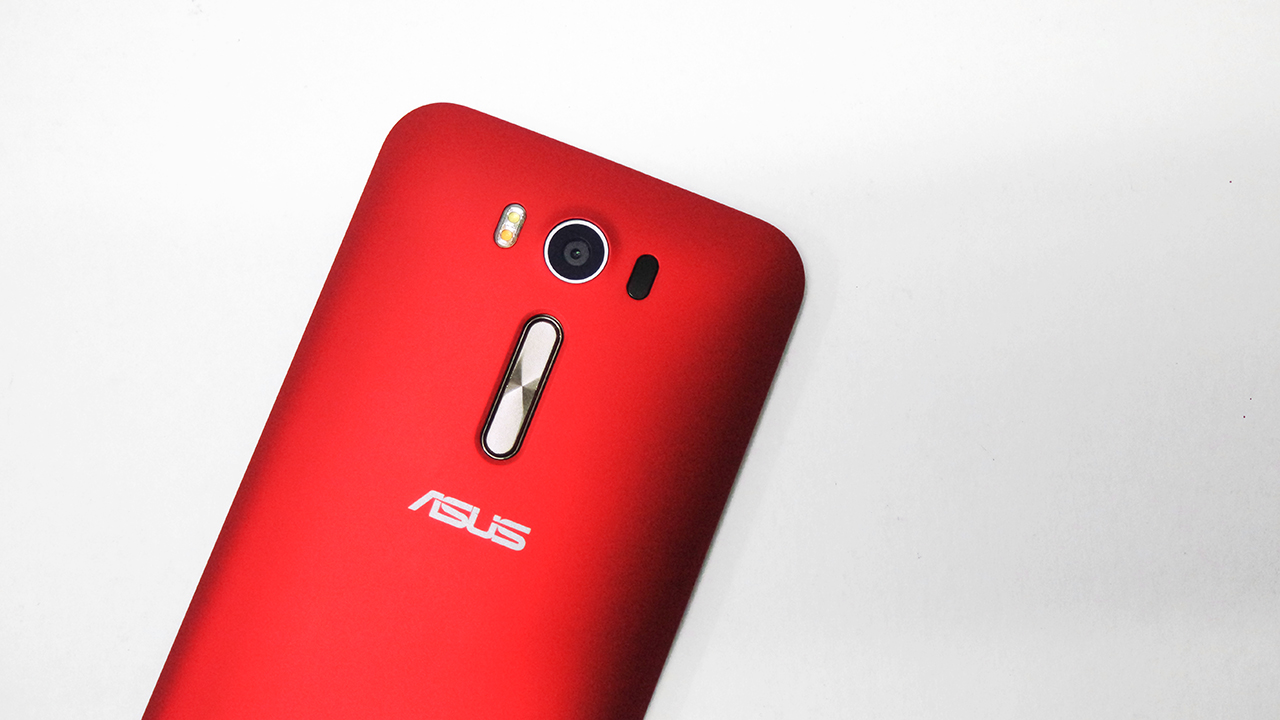 ASUS ZenFone 2 Laser 5.0 generously features an 8-megapixel rear camera guided with a 0.03 laser auto focus. The laser auto focus provides a near-instant focus as fast as only 0.03 second. It also has a dual-LED real tone flash at the back which allows you to take photos with true-to-life colors. This Dual Color Real Tone Flash uses both yellow and white-based lighting.
ZenFone 2 Laser also features a 5-megapixel front-facing camera that has an 85° wide-angle. The coolest things about the ZenFone's front camera are the Beautification and Selfie Panorama modes.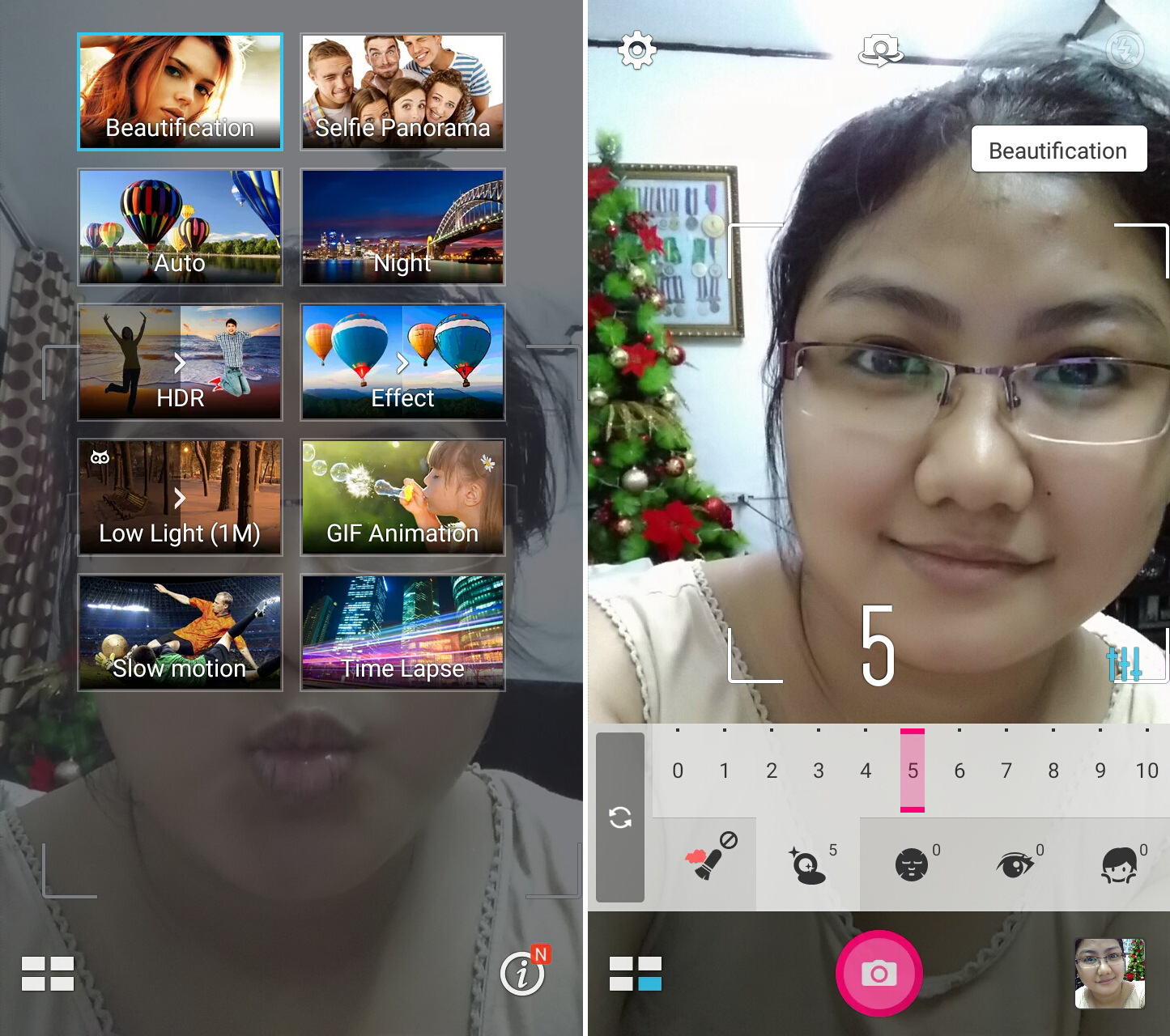 The real-time Beautification mode allows you to adjust the beauty settings (blush, skin softening, skin brightening, eyes enhancement, and cheeks thinning), and see a live preview before taking your #flawless selfie.
The Selfie Panorama mode allows you to take a 140° selfie so that everyone can be a part of the shot. No need to squish your faces for that awesome #groufie!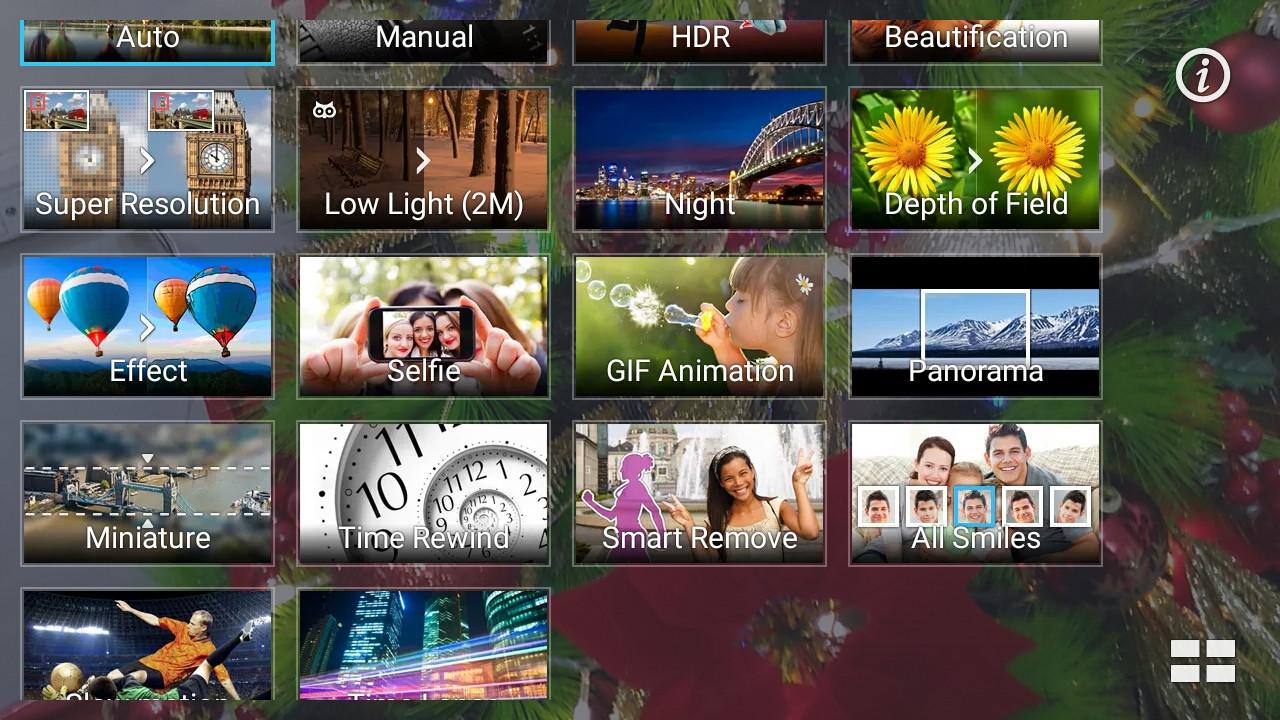 ASUS PixelMaster 2.0 allows you to take professional photos and videos with its various presets and effects. My top favorites are the Manual, HDR, Super Resolution, Low Light, and Depth of Field modes. It makes this smartphone the closest thing to a DSLR camera.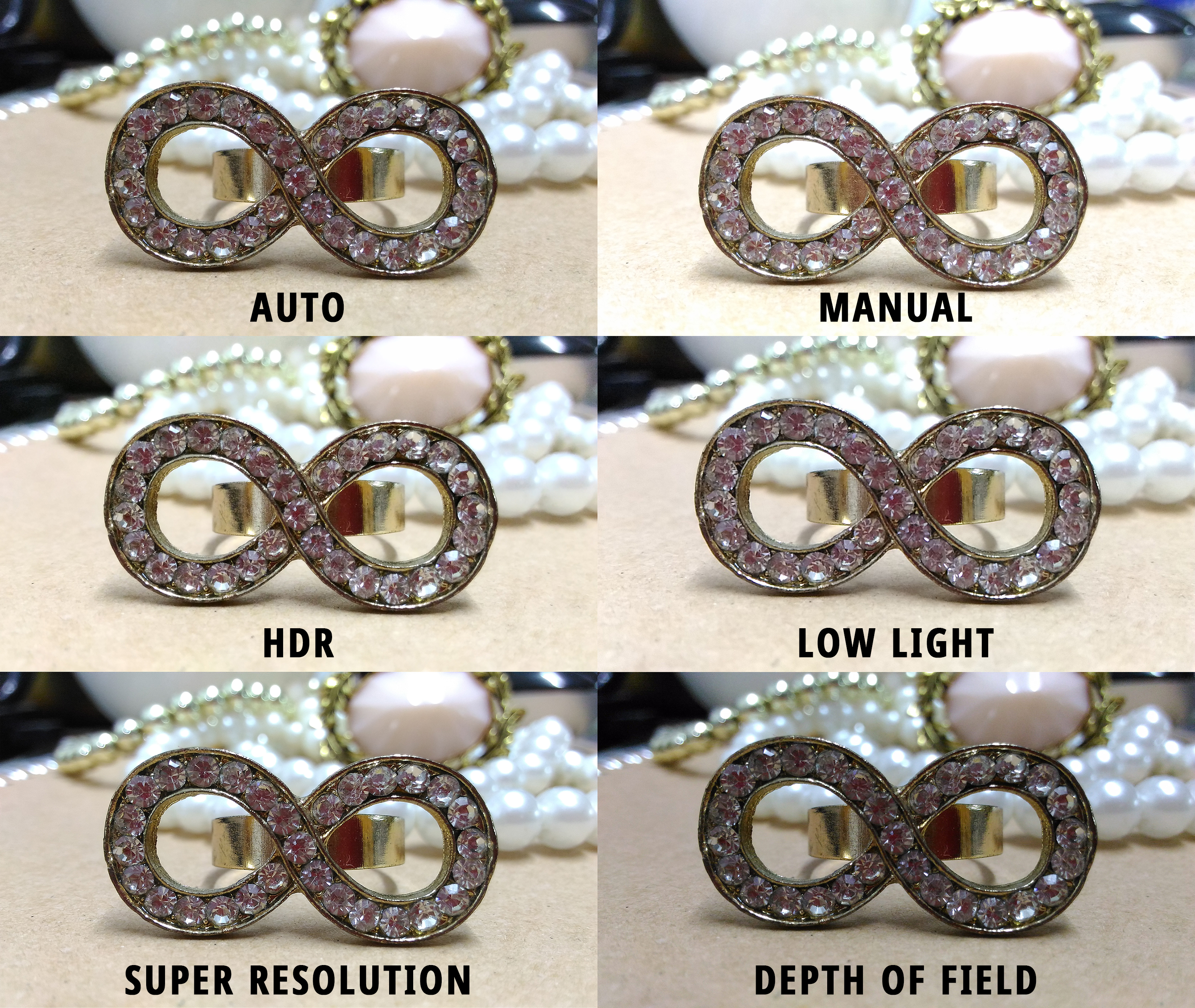 Other modes include Auto, Night, Effect, Selfie, GIF Animation, Panorama, Miniature, Time Rewind, Smart Remove, All Smiles, Slow Motion, and Time Lapse. ZenFone 2 Laser cameras also feature Anti-shake Enhancement, Self-timer, Burst, and Face Detection.
Test Shots
These photos were taken with the ASUS ZenFone 2 Laser camera. They were not edited and no additional filters were used.
Video recording is fun with ASUS ZenFone 2 Laser. It has a maximum resolution of Full HD 1920 x 1080 and is equipped with video stabilization for filming fluid and stable footage. The laser auto focus system still works while recording a video; no need to worry about blurry video footage.
Too bad that it's not capable of recording videos using the front camera. However, you can still use the front camera for video calls.
Unleash Your Creativity
The ZenFone 2 Laser built-in apps that allows you get even more creative with your photos. The ASUS PhotoCollage provides various layout and effects for your photos. Create a collage using the Grid layout. The Magazine layout allows you to create magazine pages, postcards, posters, albums and CD covers. If you want an extra special photo, use the PhotoEffects feature.
With ASUS MiniMovie, create mini movies and slideshows using your photos. Pick a theme or template, choose a song, rearrange the photos, edit subtitles and more texts; editing is super easy and fun!
You can also edit your photos after taking them with the ASUS built-in photo editor. It allows you to add a filter and a frame to your photos; crop, straighten, rotate, or flip your photos; draw on it; adjust different settings such as exposure, contrast, shadows, highlights, vibrance, sharpness, curves, hue, and saturation; add effects like vignette, graduated, black and white filter, negative, edges, posterize, blur, feather, and relief. It's a really great photo editor.
Fast & Powerful
The ASUS ZenFone 2 Laser 5.0 comes with the 64-bit Qualcomm Snapdragon 410 Cortex A53 MSM8916 Quad Core Processor coupled with Adreno 306 GPU clockspeed at 400MHz; equipped with 2GB of DDR3 RAM; and has an internal storage of 16GB. I'm not gonna lie, I don't really understand much about all of that specs (as I'm not a very techie person), but I do know that they yield outstanding performance. And for a smartphone in this price range, those specs are pretty impressive. ZenFone 2 Laser operates on Android Lollipop 5.0. Oh, and the storage is expandable up to 128GB with a MicroSD card! YASSS!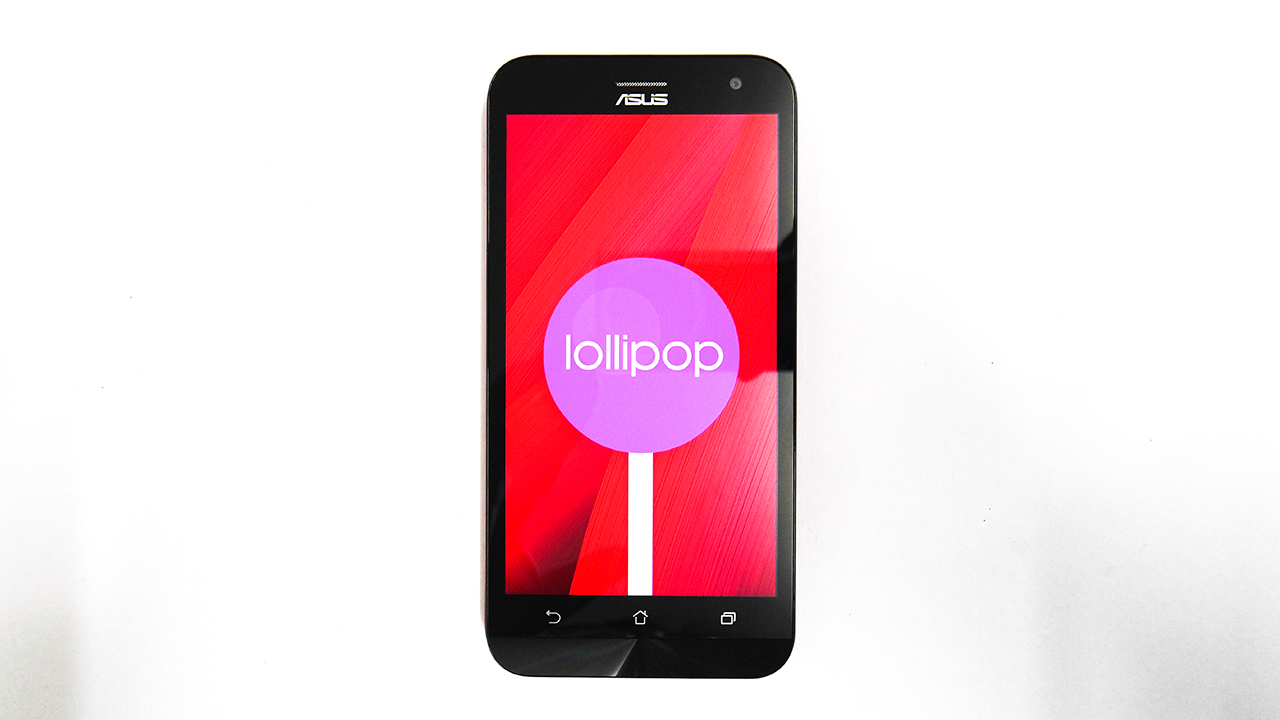 Using this phone for a couple of weeks now, I never experienced any overheating of the device. It can run multiple apps simultaneously without slowing or having a lag feeling. Performance remains smooth while navigating through the phone's menu, launching apps and switching between them. I'm not a heavy smartphone gamer so I can't really tell you about the gaming performance of this device, sorry.
ZenFone 2 Laser 5.0 has a 2,070mAh (TYP) Prismatic battery which is also removable. It's a pretty good battery for a smartphone. I use mine for web browsing, social media, navigation, video playback, communication, and it lasts me more than a day.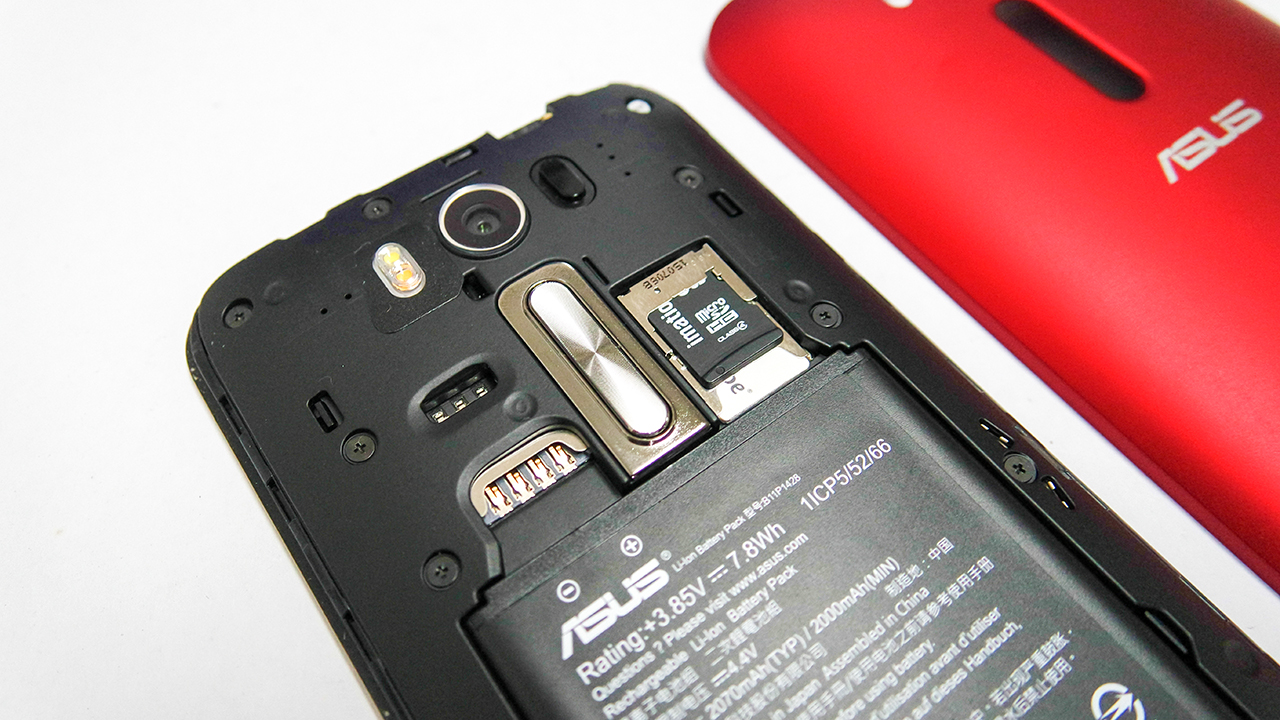 The ASUS ZenFone 2 Laser supports 4G/LTE network connection with a maximum download speed of up to 150 Mbps (still depends on your cellular operator), plus 3G Quadband speed up to DC -HSPA+. It has two (2) micro SIM card slots that both support 2/3/4G connection. For navigation purposes, ZenFone 2 Laser supports three different satellite system around the globe: GPS, Glonass, and BDS. This phone also features Bluetooth and WiFi connectivity.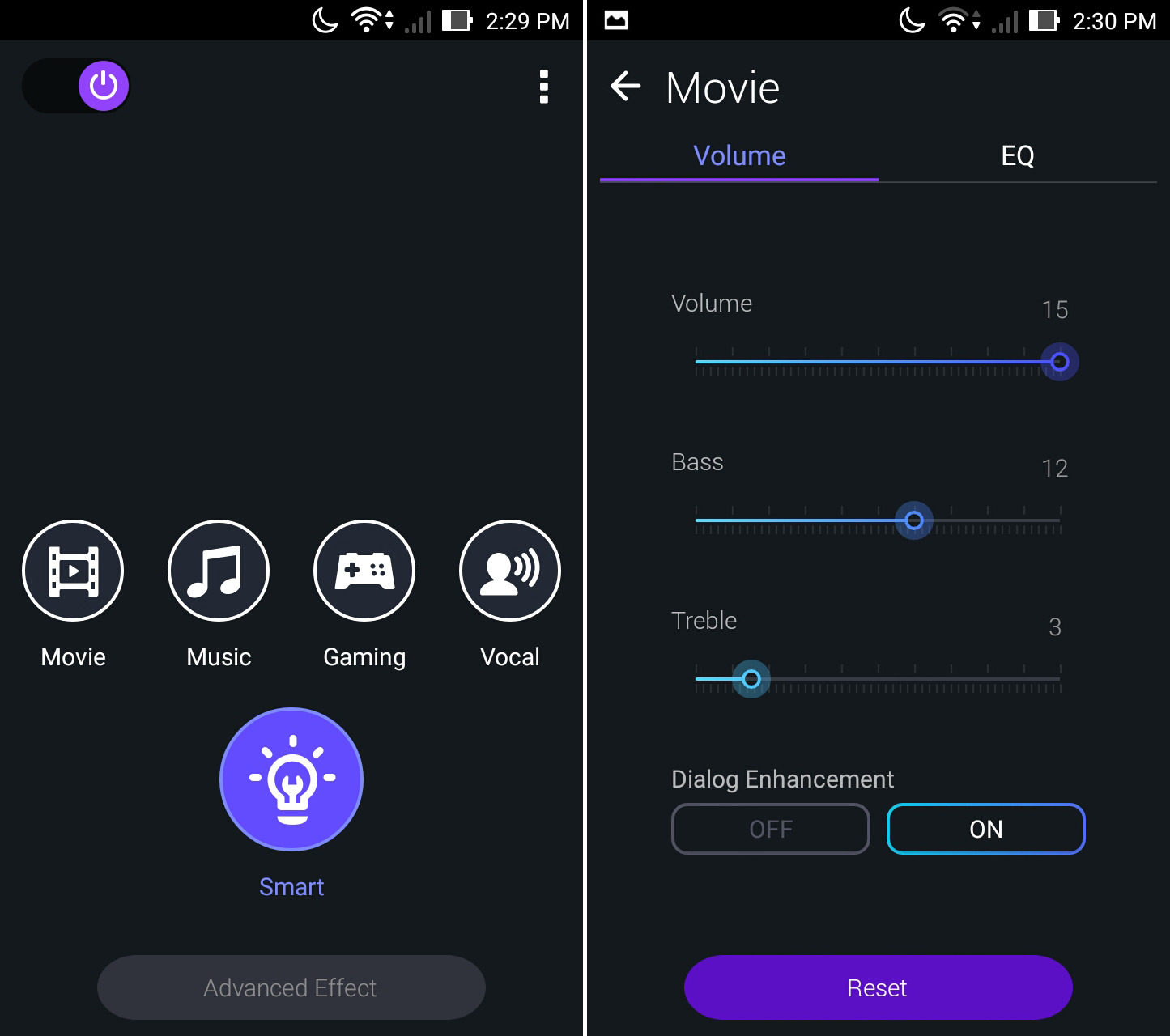 The sound performance of the ZenFone 2 Laser is also great. It comes with a built-in ASUS AudioWizard app which enables you to customize the sound settings based on your preference. It also has presets for movie, music, gaming, and vocal; plus a smart mode. ZenFone 2 Laser also features a built-in FM Radio app which requires the headset for antenna.
Simple, Smart, Personalized
The ASUS ZenFone 2 Laser features the ZenUI which provides an intuitive interface. It has a stylish layout and expanded white space which creates a trendy yet minimal and cleaner design.
The ZenUI Launcher provides various icons and shortcuts for customization and ease of access. With easy-access customization tools, you can personalize this smartphone in a breeze.
The ASUS Theme Store showcases a variety of custom icon packs, fonts, live wallpapers, and complete theme packages for a more personalized interface.
Part of the intuitive design, the ASUS ZenFone 2 Laser also features the ZenMotion. It enables the use of Touch Gesture to launch various apps and interface. My top favorites are: swipe C to launch camera, swipe V to launch dialer, and double-tap to wake the phone or put it to sleep.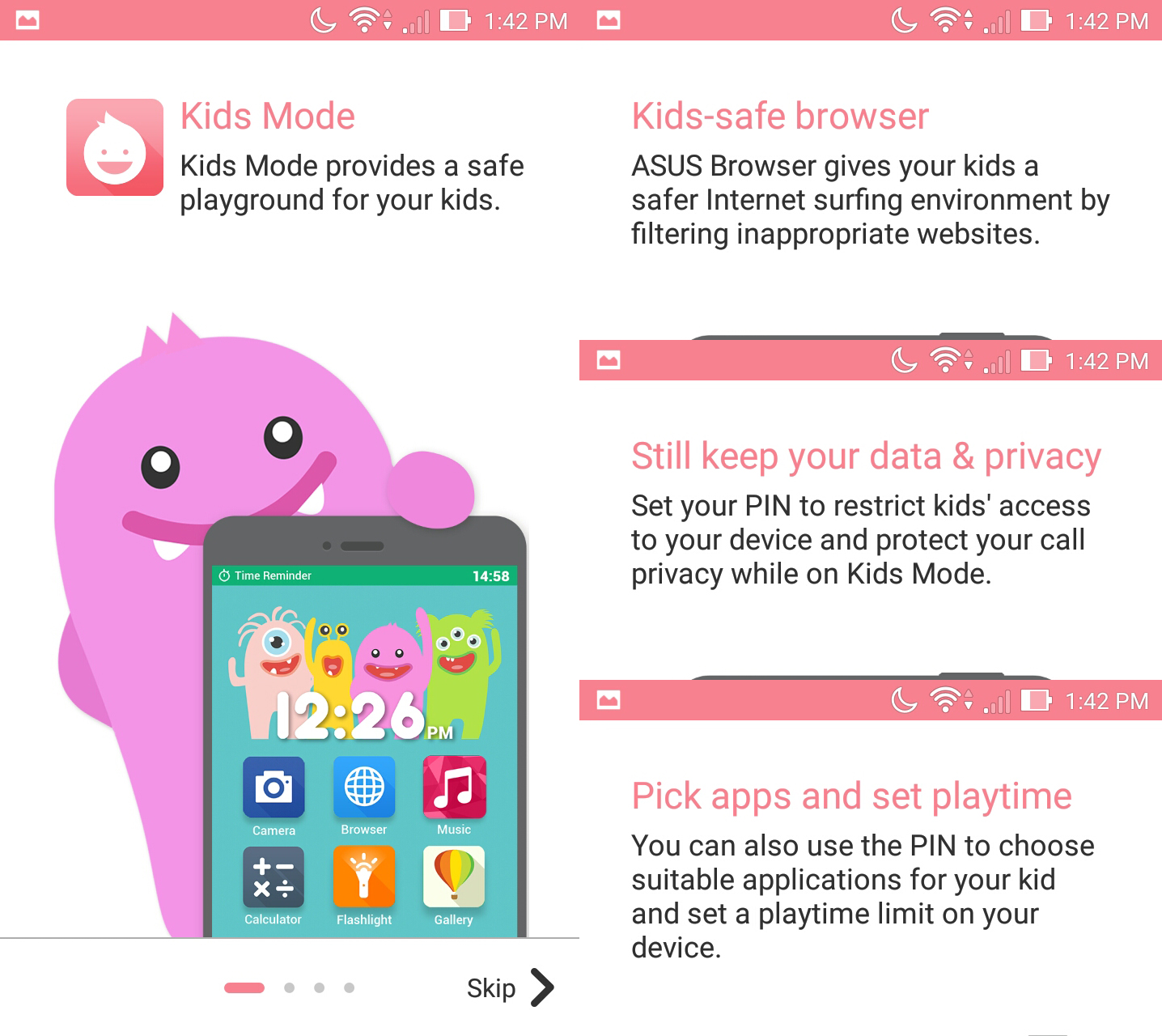 Another unique feature of the ZenFone 2 Laser is the built-in Kids Mode app which allows parental control over the smartphone. This is perfect for parents and kids. The Easy Mode feature provides ease-of-access for kids and the elderly.
Still thinking of whether to upgrade to this phone or not? Below are the full specs and quick comparison with ZenFone 5.
ASUS ZenFone 5 vs. ASUS ZenFone 2 Laser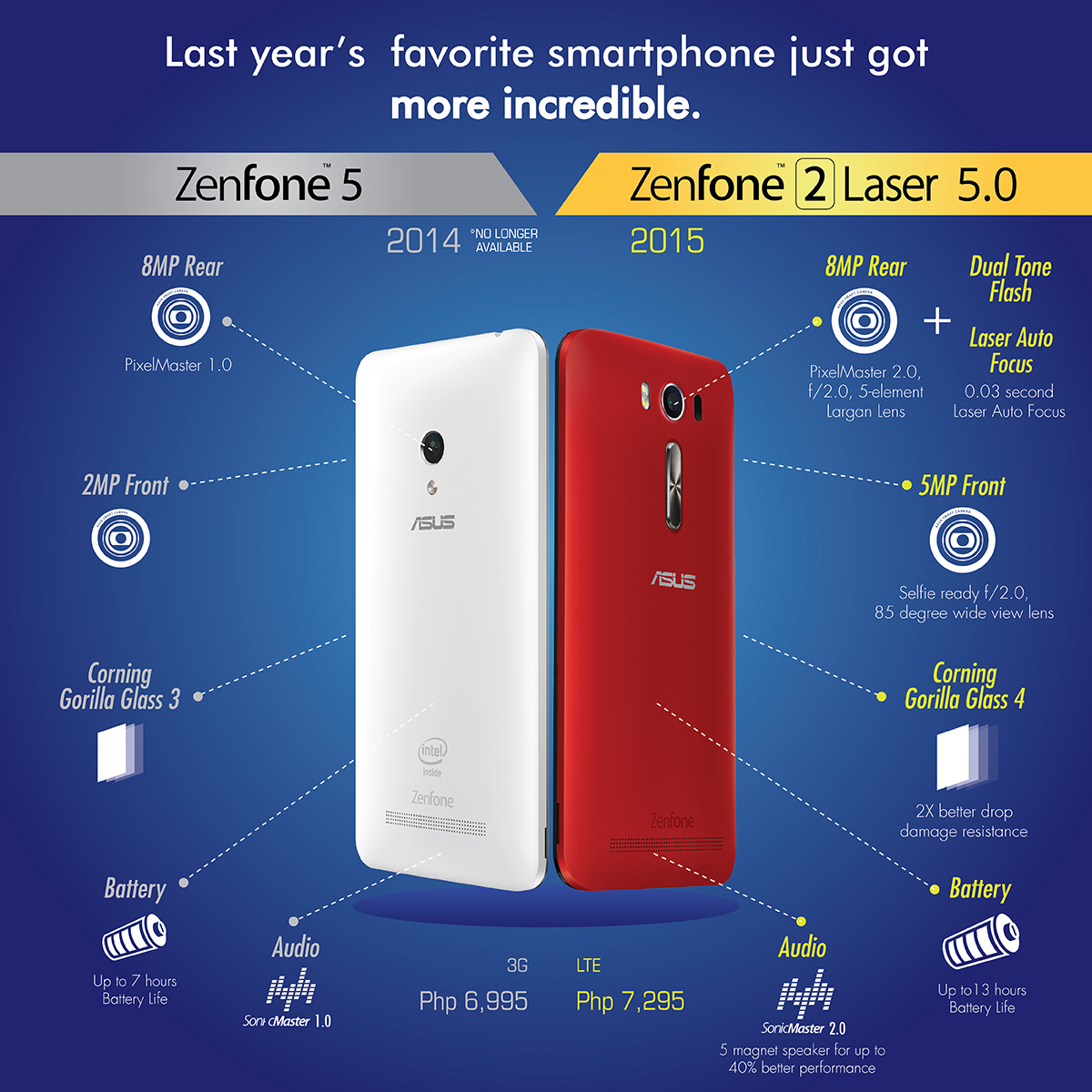 ASUS ZenFone 2 Laser 5.0 Full Specifications
Brand: ASUS
Model Name: ZE500KL
Marketing Name: ZenFone 2 Laser
MSRP (Local Currency): Php 7,295.00
Screen Size: 5-inch
Screen Resolution: IPS LED Backlight TFT screen with 178° wide view angle
Pixel Per Inch: 294
IPS Panel: Corning Gorilla Glass 4 with 178° wide view angle
Processor: Qualcomm Snapdragon S410 Quad-core @ 1.2 GHz
Memory: 2GB RAM
Battery: TYP 2,070mAh Prismatic battery (removable)
Rear Camera: 8MP Aperture, 5-element lens, Laser Auto Focus, Dual Color Flash
Front Camera: 5MP, f/2.0 Aperture, wide-angle 85° Pano Selfie
3G Network: DC-HSPA+ (DL/UL): 42/5.76 Mbps
LTE Network: LTE CAT4 (DL/UL): 150/100 Mbps
3G Quad Band Support (850/900/1900/2100 MHz): 850/900/1800/1900
Operating System: Android Lollipop 5.0
Storage: 16GB
WebStorage/GoogleDrive/Dropbox bundle: 5GB lifetime for free
Dual SIM-Card Support: Yes
Maximum Micro SD Card Support Size: 128GB
Bluetooth: BT 4.0
Navigation System: A-GPS and GLONASS
Sensor: 1. Accelerator, 2. E-Compass, 3. Proximity, 4. Hall Sensor, 5. Ambient Light Sensor
Weight: 140g
Available Colors: Black, Ceramic White, Silver, Purple, Aqua Blue, Sheer Gold, Glamour Red

Verdict
Overall, ASUS ZenFone 2 Laser 5.0 is a great smartphone and is probably the best yet in its price range. It is a very functional and practical smartphone with an amazing camera. The capability of capturing high quality photos, plus the smooth and outstanding performance of ZenFone 2 Laser, makes it perfect for bloggers, social media influencers, and online entrepreneurs.
The color choices are great too, I love this one in Glamour Red because it looks very classy; my next favorites are Ceramic White and Sheer Gold. Again, there's a lot of room for improvement. I would prefer a sturdier casing and vlogging would be so much easy if it has a front-camera-video-recording capability. But then again, for the though screen protection, awesome camera specs and tech, and impressive internal specs alone, I would say that the ASUS ZenFone 2 Laser 5.0 is such a steal at only Php 7,295.00!
To be honest, I wasn't considering buying this phone when I was making plans, JUST BECAUSE I never really heard of it. And in my defense, this phone is fairly new in the market; it was launched last September 2015. Of course, I'm familiar with ASUS smartphones and its ZenFone line; I almost bought one last year! I just really don't know much about the new ZenFone models before getting this one. But I have to tell you, honestly, I'm so happy with this and I've been using it nonstop! Heh. SO, babbling aside, if you're also looking for a new phone in a budget, give this one a try! And hey, since the holiday season is here, this could be the perfect gift for your hard-working self and for your loved ones.
---
Get to know more about ASUS gadgets; visit their website at https://www.asus.com/ph/; follow them on social media to get the latest updates–Facebook: ASUS Philippines, Instagram: @asusph, and Twitter: @ASUSph.
Want your own ASUS ZenFone 2 Laser? Let us hear your thoughts and join the discussion with these hashtags: #ZenFone and #ZenFoneLaser. Or perhaps you already have your own and are currently enjoying the camera features; don't forget to use the hashtag #SeeWhatOthersCantSee when sharing your laser-focused photos on social media! I promise to Like and double-tap your posts! Hee.
---
Disclaimer: This ASUS ZenFone 2 Laser 5.0 unit was sent to me for review by ASUS Philippines through Di9it. All thoughts and opinions remains honest, genuine, and written without prejudice.
All images in this post are mine, except for the ZenFone infographic, which was provided by Di9it.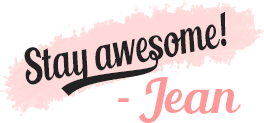 Related