Hello loves! I hope everyone's having a fantastic day. I was kinda bummed that I wasn't able to write a year-end post last year (read why) so I'm happy that a blogger friend tagged me on this. Thank you so much Hazel, of http://hazelasoy.blogspot.com/, for sharing The Grateful Blogger Tag with me.
The rule of this tag is to: thank the person who tagged you and leave a link for them, write about 10 things you are grateful for and tag 10 bloggers and comment on their blog.
Since I like doing gratitude lists every year (published or not), this is a perfect way to share what I'm thankful for last year. Alright, here it goes.
10 Things I'm Grateful for last 2014
My Family and Close Relatives
For loving, inspiring, motivating, challenging, and supporting me. To my wonderful and amazing mom, no words can describe how thankful I am that you are my mom. I miss you and see you soon! I'm also grateful for a stronger relationship with my sisters. Sometimes it's hard being the eldest; we may have lots of misunderstandings; but I know that we all know how much we love and treasure one another. With you, I am never alone.
My Boyfriend
Dan. For discovering different kinds of love with me. Know that I will forever be grateful for you; for being my shock-absorber and my rock; for being honest with me even if it hurts sometimes. Thank you for making me happy even at times when it's hard to do. Always remember that I appreciate every little thing you do. And thank you for supporting my hopes and dreams. I love you!
The Internet
For letting me do things people can't 10 years ago. For multiple ways to keep in touch with family, friends, and relatives. For making it possible for me to score jobs and projects. For the opportunity to do business online. For being able to watch US TV shows, movies and YouTube videos. And of course, for creating the blogosphere.
Blogging/Blogosphere
Through blogging, I've discovered lots of new things. I'm amazed how it helped me be better in many different ways. It has become my outlet for creativity and random musings. The thing that I'm most grateful for with blogging is meeting new people. There are lots of amazing bloggers who greatly inspires me and I'm thankful for those who helped me be a better blogger. My readers, you guys, feel like real friends to me. I love chatting with you and I hope I'll get to meet you in person and start a real and lasting friendship.
Opportunities and New Experiences
There are lots. I've never had so much opportunities like I had last year. I am surprised and thankful for all of them. Gaining new experiences through those opportunities is something I'm very thankful for. There are things I never thought I'd be able to do and I'm glad that I was proven wrong. Those are what motivates me to dream bigger and try new things.
Books
Printed and digital. Fiction and non-fiction. For taking me to a lot of different places and dimensions. For making smile, laugh, amazed, cry and kilig. For taking my mind off of things for a while. For teaching me helpful and useful stuff. I'm grateful for reading lots of books for it means that I was able to have time for myself.
Strong Coffee
For waking me up in the morning when I can't even open my eyes. For keeping me up at night when I have work to do and deadlines to meet. For giving me warmth and comfort on cold afternoons. Also, thanks for the planner. Heh.
Bacon
For making everything better!
Epic Fails
I'm not perfect but I can be really hard on my self whenever I do something wrong. So thanks for a few epic fails that made me cringe (and cry sometimes) but which also made me realize that it's okay to make mistakes. I'm grateful for being a little braver and a little stronger.
Every Day
For all the days I've had last year, I'm grateful that I survived each of them. There were good days, bad days, really good days, and really bad days. There were memorable days and there were those that just passed by. I am grateful for another year that I have lived.
So it ends here but heaven knows I'm grateful for a lot more things in my life. This list may include random unconventional things but, for me, they mean more than counting what I've done, where I've been, or what material things I've acquired in the past year.
Hoping for more excitement and memories this year!
Tagging These Lovely Bloggers
Aiza (loveisamutt.com)
Danica (thesweetkitty216.blogspot.com)
Shayne (queenofallyousee.com)
Jackie (jacquelineuy.blogspot.com)
Dyanne (herotherlovelysides.wordpress.com)
Riza (rizanoia.com)
Glenda (glendacandedeir.com)
Janet (beautyboxchic.blogspot.com)
Jen (theorganizedholicmom.com)
Ella (justcallmeitgirl.blogspot.com)
---
Let me hear your thoughts and leave a reply down below.
Don't forget to 

 for more updates on my blog.
Also, if you liked/enjoyed this post, please share it with your friends using the social sharing buttons below. ^_^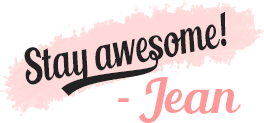 Related