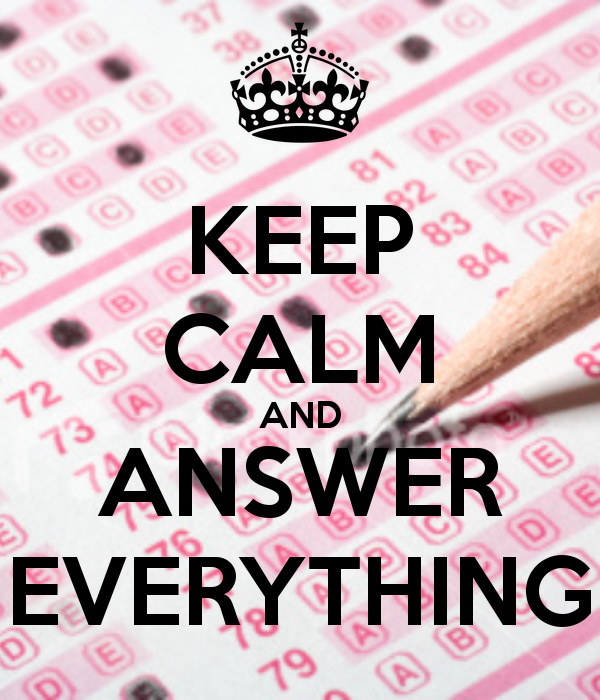 This weekend (August 4-5, 2012) comes the most anticipated University of the Philippines College Admission Test (UPCAT). By now, you should know that you're aspiring to get into the country's national university and the Philippine top university according to the international research organization Quacquarelli Symonds Intelligence Unit's (QSIU) report on Asia's top universities. Then you would've guessed that you are competing with more or less 75,000 students around the Philippines and even abroad.
Scared now? Don't be. This article is not to discourage you but to help you get through the whole process of madness that is UPCAT. Here are some tips that you should remember before, during, and after taking the UPCAT 2013:
Before
1. Keep Calm
I'm sure you're having mixed emotions right now–excitement, anxiety, fear, etc.–but there's just really one thing you have to put in mind, keep calm. Too much emotions can cloud your brain with unnecessary thoughts and might result to mental block, we don't want that.
2. Review Months Ahead
If you plan to enroll in review classes, do that at least a month before the exam. It will give you more time to study and greater chance to retain what you have learned. Avoid undergoing crash reviews (i.e. one-week extensive review), not only it will overwhelm you, it will also stress your brain. Also, information overload is equal to low knowledge build up and retention. However, if you weren't able to undergo any review/preparation class, it's actually fine, as long as you review on your own or try to remember as much as you can what you have learned for the past nine years you've been "studying". Reviewing will help you, it won't hurt if you do, and might keep you from having regrets after.
3. Master the Art of Shading Circles
UPCAT is a five-hour exam with hundred(s) of multiple-choice questions covering Language Proficiency, Reading Comprehension, Mathematics, and Science. Test papers will be machine-read. Thus, if you shade very lightly and/or did not fully/completely shade the circle (oval actually) of your answer, it will not be read by the machine and will not be counted as an answer AND will earn you a no-answer deduction from your total score. On the other hand, you should avoid shading very heavily on the circles especially because you might change your answer and the machine might not detect the one you're really sure about.
4. Know Your Test Location
Familiarize yourself with your test location. Make sure you know how to get to the test center you chose before the exam day itself. Learn the alternative routes (as heavy traffic is to be expected on the exam dates) if you'll be traveling on a private vehicle or know by heart what public utility vehicles to ride if you'll be commuting. If you're not yet familiar with the test center/campus of choice, it is necessary to pay a visit and find your designated test building days before the exam. All of these are important to save yourself from unwanted travel experiences and, worst, missing the exam.
The Night Before
1. Avoid Doing a Last-minute Review
Again, don't confuse and stress your brain for you will be needing that the most on the day of your exam.
2. Get a Good Night's Sleep
Enough and uninterrupted sleep does not only makes you feel better the next morning, it also develops your brain. A good night's sleep enhances your memory, sharpens your attention, and lowers stress; making you in a perfect condition for taking the exam.
3. Prepare the following:
Your Test Permit (That little piece of paper they gave you when you submitted your application form, with your 2×2 picture on it.

No test permit, no UPCAT

.)
At least three sharpened pencils (Mongol No. 2)
Eraser (Trust me, you need one aside from the ones attached at the end of your pencils.)
Sharpener (For when you keep on breaking your pencil.)
Snacks and water (It's a five-hour exam! You're not allowed to leave the room until the end of it, except for CR breaks. Try to bring brain food as much as possible. Bring snacks NOT meals. It's not as if you can take a break to eat rice and whatever viand you may have. Finger food, breads, and sandwiches are enough. Avoid bringing and eating super crunchy snacks like chicharon, cornick, etc.; smelly food such as bagoong, vinegar, patis, etc.; you don't really want that much attention while taking the UPCAT. Also, ditch messy-to-eat food–you don't want to mess up your test paper.)
Comfortable clothes and a jacket (You don't want sweating too much or chilling while taking the exam. Some exam rooms are air conditioned, you might need a jacket.)
ID (Just because.)
Money (For transportation, food, etc. Not for bribing though.)
Umbrella (It's always raining during UPCAT. Well, at least to my knowledge and experience.)
Yourself (Need I say more?)
The morning of your exam day
1. Get Up Early
Especially if your exam schedule is six in the morning! Do your morning rituals (if you have any) as you do on normal days, not that UPCAT is nothing extraordinary but it is substantial that you do not psych yourself out.
2. Eat the Right Amount of Healthy Breakfast
Never, ever, take an exam with an empty stomach! An empty stomach is an empty brain. Also, because it is a five-hour exam (you should have know this by heart now), you might pass out due to hunger while answering your test paper. Do you really want that?
3. Keep Calm
There's no need to panic. Really.
4. Hit the Road Early
You don't want to be late. In fact, you shouldn't be. They will not allow you to take the exam if you come in late and you cannot talk (or cry) your way into it. Expect a heavy traffic and be on your test building an hour before your test schedule. Giving yourself a lot of time allowance for travel is helpful especially if you find yourself lost, in a heavy traffic, etc. At around 30 minutes before the exam, they will ask you to line up and enter the building and your exam room; you will do this alone (without your parent/s as you would most of your college life).
During
1. Keep Calm 
Seriously. It just a test. In fact, it's not the hardest test you will take in your whole life. Wait 'til you get in to UP. Kidding aside, being calm throughout the exam will help you understand each question clearly, giving you a higher advantage of picking out the right answer. However, if you're starting to feel really bad (i.e. like you're going to throw up or faint), don't hesitate to approach your proctor and ask for assistance.
2. Follow Instructions 
Do only what you're told–write only where you're asked to write, start only when your asked to start, and pass your papers when you're told to do so–you have invested a lot on this opportunity so don't spoil it by not following simple instructions.
3. Pay Attention 
To the proctors and especially to time. Listen to your proctors, what they will tell you is important. Also, they will write the remaining time on the board in front so you can pace yourself. However, it will be extra convenient if you have your own watch with a timer; watches with calculator will not be allowed.
4. Take Breaks
Time is important and so is your brain. Take small breaks to rest your brain, eyes, and hands from their hard work. Use these breaks to clear your mind, eat your snacks, relax yourself, and stretch your hands, shoulders, and back.
5. Read Everything
UPCAT questions are a mix of English and Filipino, yes, even in Science (if I remembered it correctly). Read the entire question or article (for reading comprehension) and make sure that you understand it. Read every letter of choice to determine the right and the most appropriate answer. Most of the questions are tricky. There's a right answer to everything even if it seems that there's none or all of them are correct. Try not to embarrass yourself by not asking the proctors about the questions and answers on the exam; there's no bonus item in UPCAT.
6. Answer Everything
Your UPCAT score is right minus one-fourth wrong. No-answer is counted as wrong. Meaning you really have to answer everything! If you really can't tell the right answer, guess; you can always go back and change your answer. If you find yourself running out of time, guess; just answer everything. Guessing is not that bad, you have 25% chance of picking out the correct answer. But don't guess everything!
7. Easy Essay
For the first time ever, UPCAT will include an essay as an addition to the multiple-choice questions. But do not fret, they will not ask you rocket-science questions; rather, something you already know and can write about. It's not yet certain if they'll be requiring you to answer in English or in Filipino, or both (two essays), or if you can choose between the two; but they will surely tell you the specifics, so pay attention. No need to use highfalutin words. Just understand the question/topic/concept given, organize your ideas, select appropriate vocabularies, mind your grammar, and put it into writing.
8. Review Your Answers
If you still have time left, go back and review your answers. Make sure you properly shade your answers and completely remove your erasures. Do not leave any unnecessary marks on your test paper, use your scratch paper for that (you will be given one).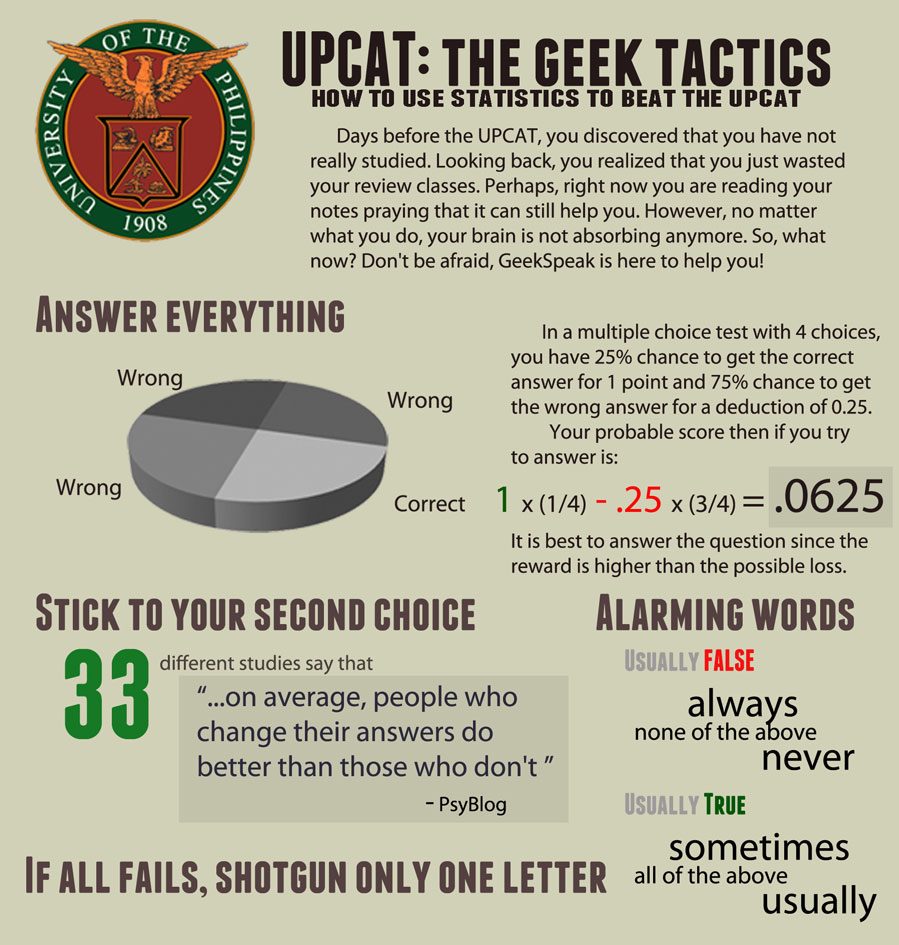 After
1. Rejoice!
Come on, five hours have passed and you're still alive, isn't that worth celebrating? LOL. But seriously, after that five-grueling-long hours, you deserve a pat on the back because you just survived taking the UPCAT.
2. Keep Calm
Okay, now after jumping around, laughing, crying, hugging your mom and/or dad hard, you must remember to keep calm. Yes you have finished the exam but you still have to wait for months for the results to be released. Remember, there's like 75,000 of you who took the same test, so yeah, it's that hard and long to finalize the UPCAT passers. So while waiting for the result, keep calm and carry on.
3. Eat
That exam sure did exhaust you and took all your energy you've earnestly saved up for the day and those snacks were easily burnt due to your brain's high activity so go have lunch/dinner (depending of course on your exam schedule).
4. Pray
You've done your part. Time to let your god and the UPCAT gods to do the rest.
5. Move on
There's nothing you can get in drowning yourself in regret, fear, and anxiety. UPCAT is over. Move on. You should now start preparing for the other college entrance exams that you are about to take.
Passing UPCAT is not really that hard. You will know that when the results are out and you get your UPG (University Predicted Grade). What is hard is getting in to UP. Hey, you just have to compete with tens of thousands of other students! UPCAT is just one of the many factors that can affect your admission to UP. But since you can only take UPCAT once, might as well seize the opportunity, right? Wanna know what's even harder? Staying in UP and graduating! Haha! Well, that requires another article.
To all the UPCAT 2013 takers, good luck! 😉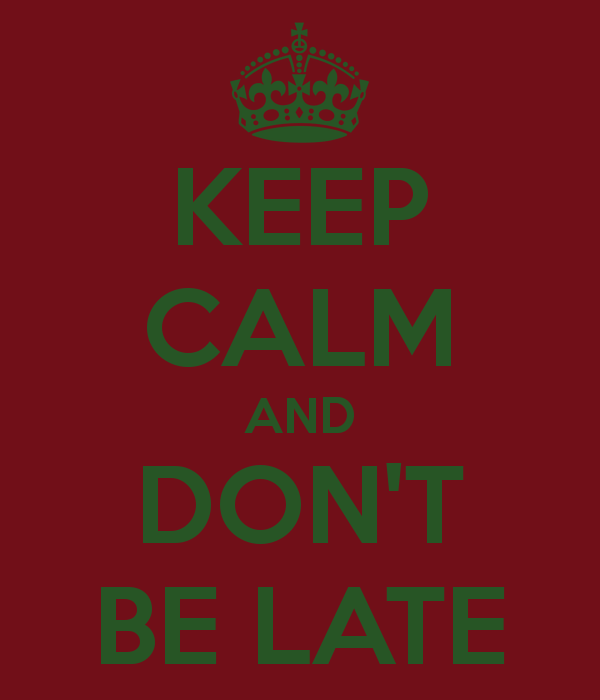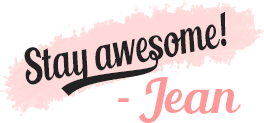 Related