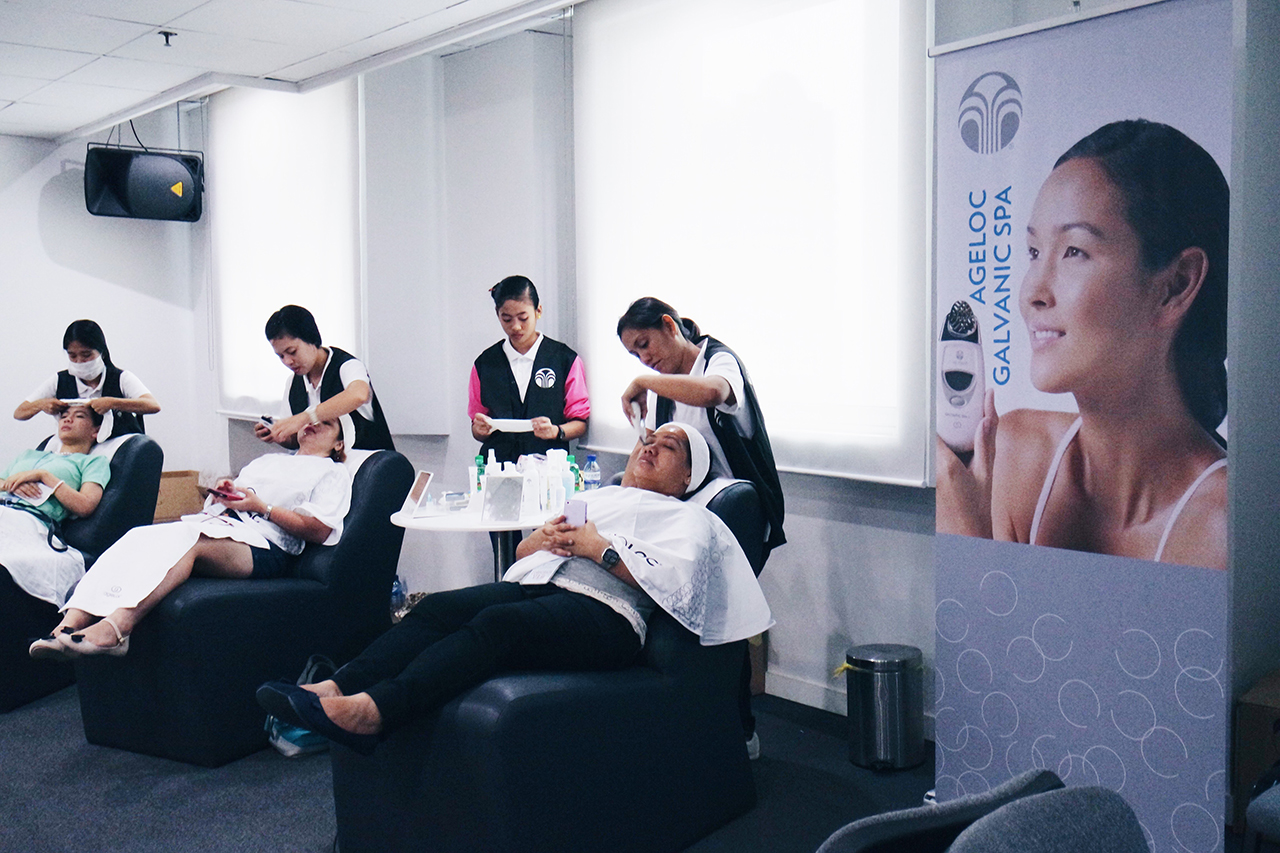 For those looking for The Secret of Youth, look no further, Nu Skin is here. Nu Skin Philippines is a direct-selling company that offers Nu Skin and Pharmanex products. Open since 1998, it is a subsidiary of Nu Skin Enterprises, Inc. that was founded in 1984 in the US. I can't believe I'm only learning about this now.
I've actually heard of Nu Skin before; I know someone who uses their product. At the time, I thought that it was just new in the market. I also thought that it was a very interesting product but haven't really learned much about it before. So I was really excited when they invited me at their exclusive Nu Skin ageLOC Expo a few weeks ago.
The event was held in their office at the 15F of Octagon Building in Ortigas. We met Ren dela Cruz of Nu Skin Philippines; she introduced their company and products while guiding us on the Expo. I learned that they do this every quarter of the year. The Expo serves a place for distributors and their guests to try their products and learn more about it.
Of course, we have to experience it as well. We were given experience cards with the list of booths and a health monitoring sheet.
We started with ageLOC Galvanic Spa. The ageLOC Edition Galvanic Spa II enhances the delivery of anti-aging ingredients to the skin. It starts with cleansing the face with Nu Skin Creamy Cleansing Lotion. It also acts as a makeup remover and is suitable for normal to dry skin. Before applying both facial gels, Nu Skin NaPCA Moisture Mist was sprayed each time to the face and neck to increase the level of moisture and keep the skin smooth and supple.
Next is applying the Nu Skin Pre-Treat Gel using the ageLOC Face Conductor and massaging the face with the device for about five minutes. This gel binds to impurities; softens and relaxes pores, allowing them to breathe; dissolves and liquefies excess facial oils.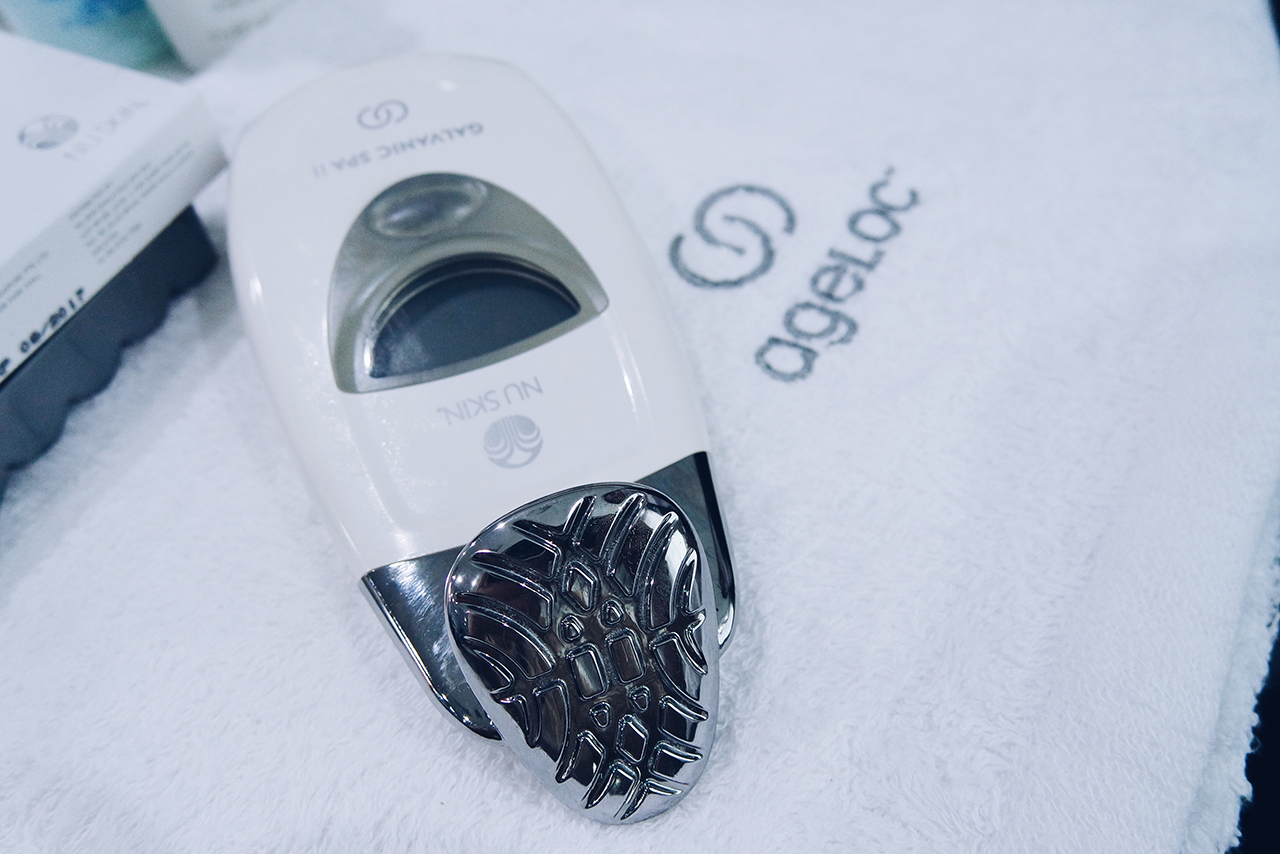 The ageLOC Face Conductor features self-adjusting currents with a surface designed to let the product travel through and around the textured pattern, more effectively holding the gel in contact with the skin. While this device uses electric current, I didn't feel any zapping in my skin.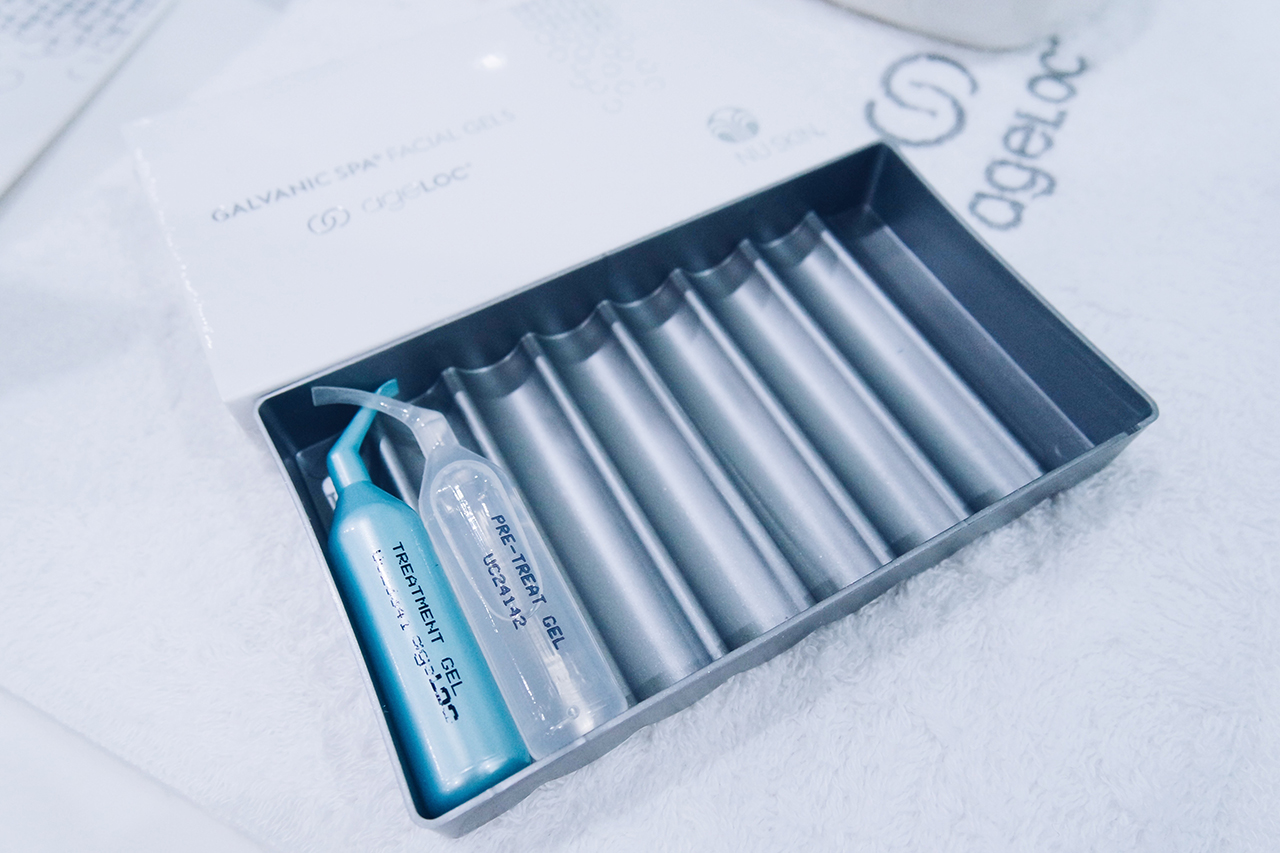 Then it's time to apply the Nu Skin ageLOC Treatment Gel using the device and work it all over the face and neck area for another five minutes. This gel removes impurities targeted in the pre-treat step, and delivers ageLOC that targets the ultimate sources of aging to preserve the look of youth and reduce the appearance of aging.
After treatment, Nu Skin pH Balance Mattefying Toner was applied to the face and neck. This toner is alcohol-free and is suitable for combination to oily skin. Lastly, the final step is to apply Nu Skin Moisture Restore Day. This protective lotion is for normal to dry skin, has SPF 15 and added UVA/UVB protection.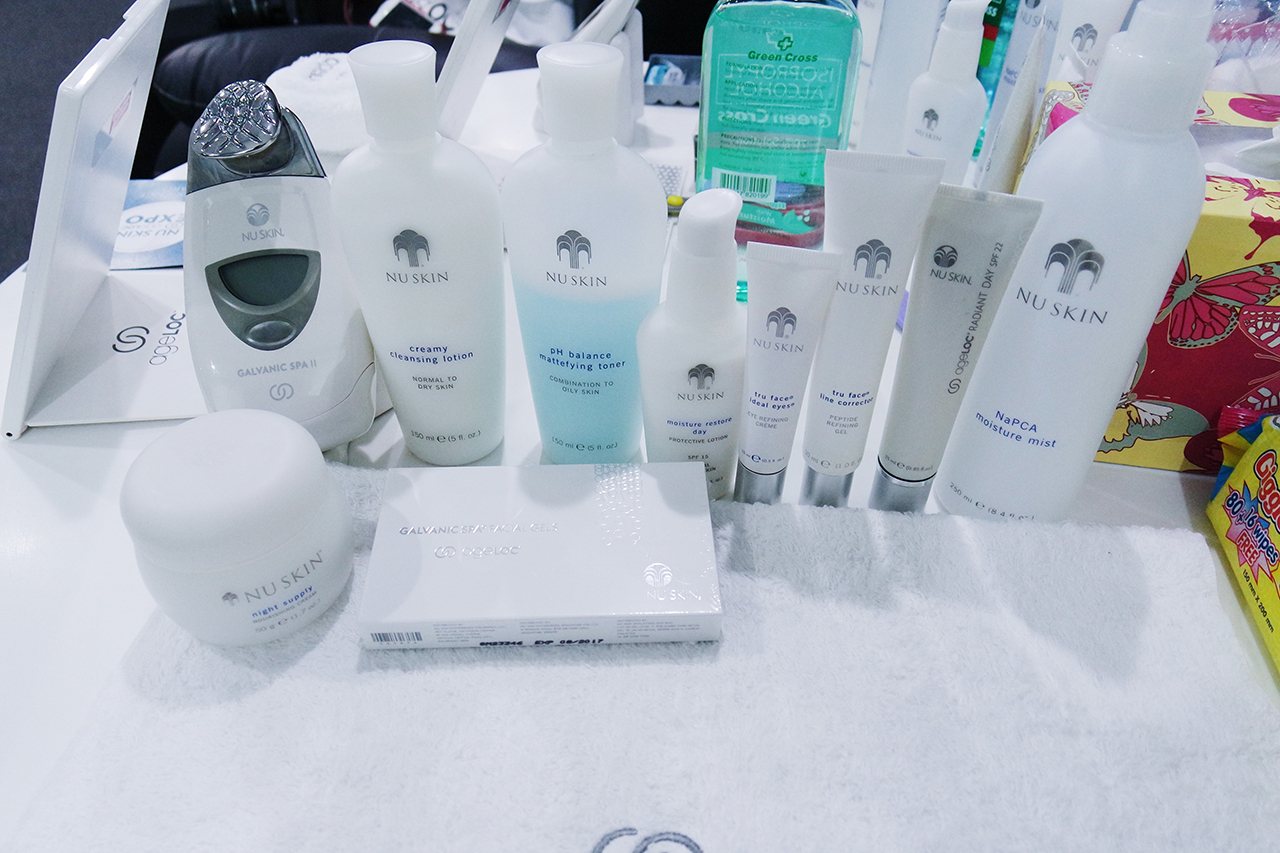 ageLOC Galvanic Spa offers an at-home spa treatment that everyone can easily do on their own. Galvanic treatments makes the skin highly receptive to certain anti-aging ingredients. And based on Nu Skin's clinical research, their system may enhance the delivery of key ingredients for up to 24 hours. This just means that more key anti-aging elements will be absorbed by your skin. The effect of this treatment lasts up to two days and it's recommended to do the treatment at least twice a week.
It was my first time to try Galvanic Spa and I was very satisfied. Special thanks to Ms. Annie, my aesthetician for the day, for the relaxing facial massage and for explaining the steps and products to me. It was definitely a refreshing spa experience.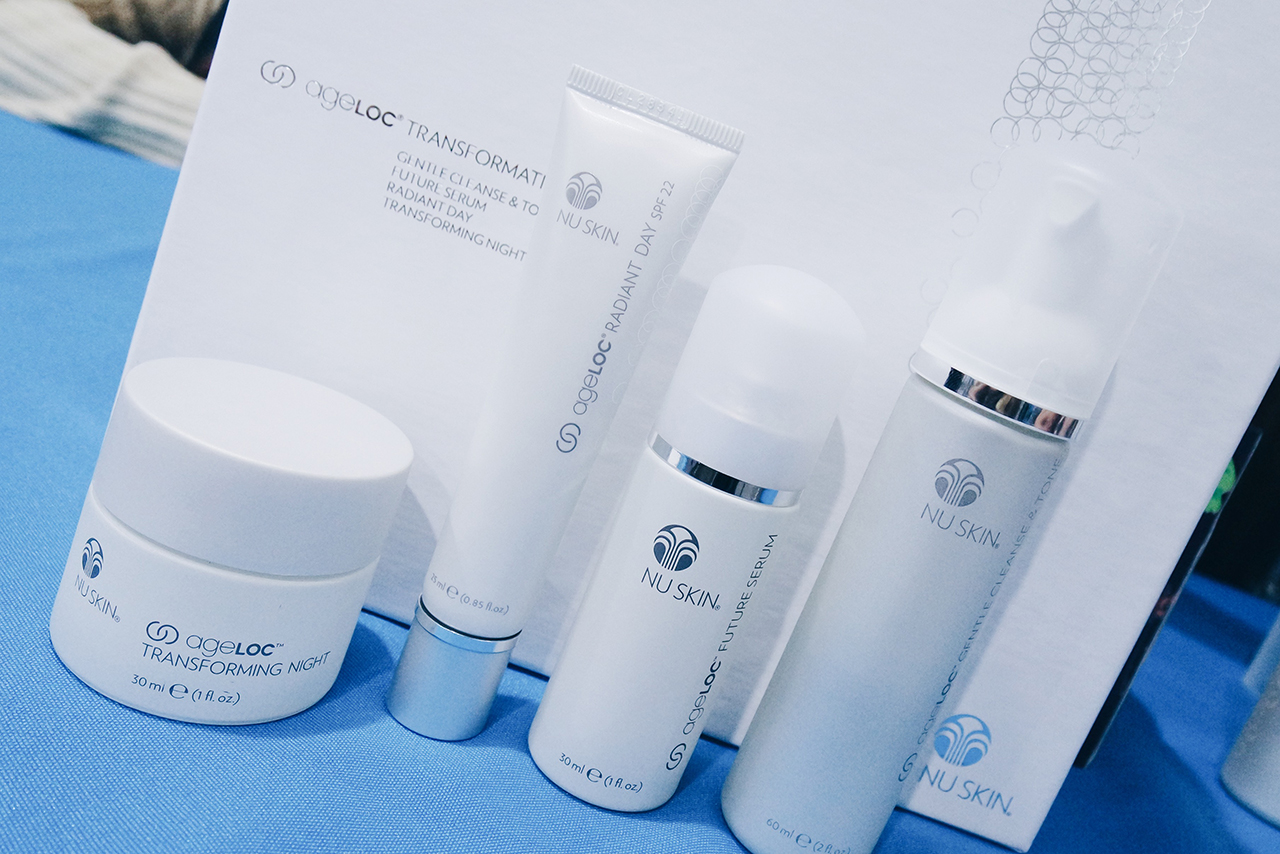 The second booth was the ageLOC Experience. We got to try their ageLOC Transformation products. Each product was tested on our hand and they explained what each one does to the skin.
Nu Skin in collaboration with other scientific experts has identified Youth Gene Clusters–the source of skin aging. And through ageLOC's proprietary science, they can now reset the balance of these Youth Gene Clusters to reflect a more youthful skin profile.
This set contains four of their premier ageLOC products; altogether, it claims to reveal younger looking skin, eight ways in seven days. ageLOC Gentle Cleanse & Tone is a foaming cleanser that combines cleansing and toning into a single step. ageLOC Future Serum delivers the maximum concentration of ageLOC to target aging at its source. ageLOC Radiant Day SPF 22 is a lightweight daily moisturizer; excellent under makeup and stimulates youthful cell renewal. ageLOC Transforming Night cream has ultra-mild ingredients which mimics the skin's own structure, working with the skins natural nighttime renewal process.
Recommended as a post-ageLOC Galvanic Spa treatment and a daily skin regimen, ageLOC Transformation boosts the skin's anti-aging process. It also aims to provide skin benefits to fight the eight signs of aging: fine lines & wrinkles, skin structure, discoloration, uneven skin tone, hydration, texture & smoothness, radiance, and pore size.
Having tried these products, I can say that it does give an amazing result. It instantly makes my skin smoother and more supple in just a single use; imagine what it would do in one week!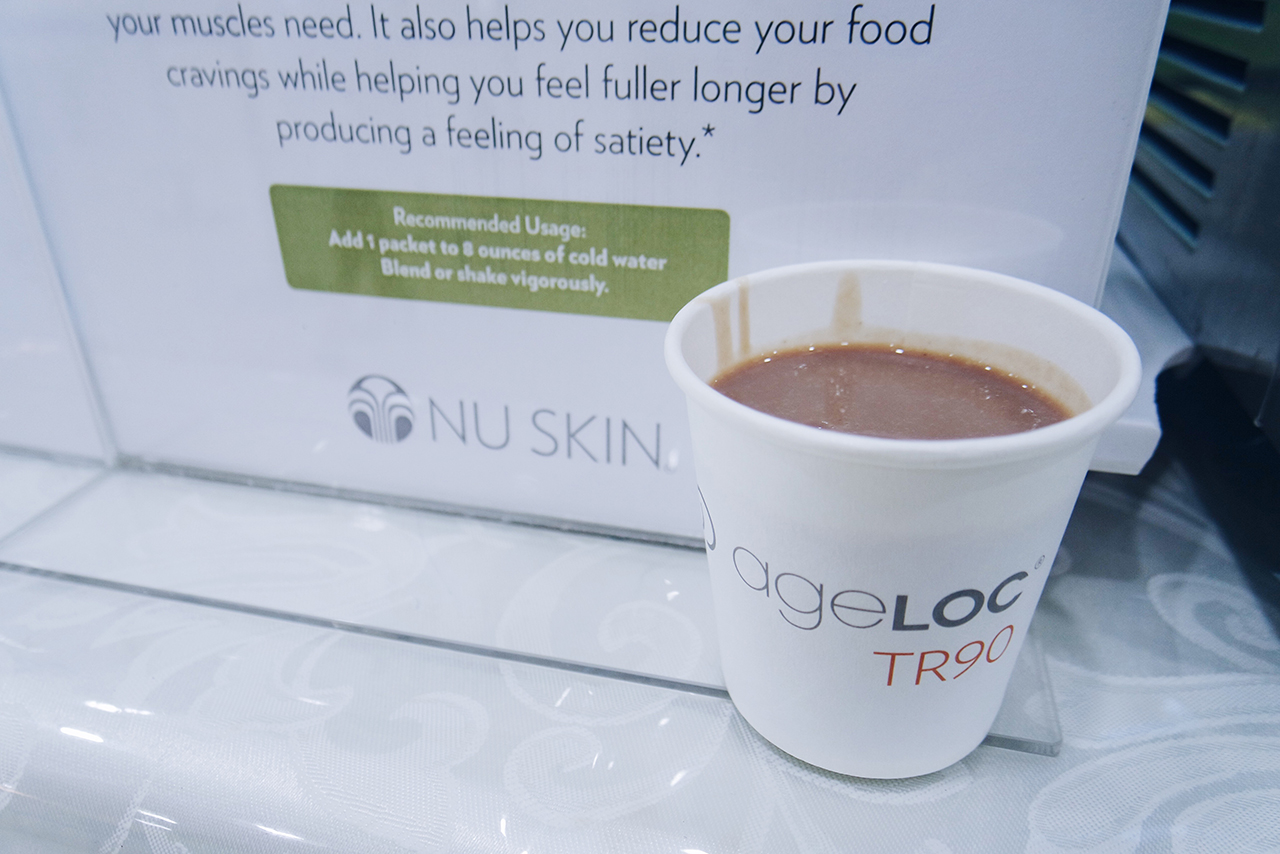 The next booth is for the product sampling. ageLOC TR90 Trimshake is a meal-replacement drink which helps control calories and is a great source of the high-quality protein that your muscles need. It helps reduce your food cravings while helping you feel fuller longer by producing a feeling of satiety. One serving per day is recommended, best for night meal replacement. Trimshake comes in two flavors: vanilla and chocolate.
I tried the chocolate flavor. It's not sweet which is good; a little thick because of the dietary fibers; and tastes fine, you wouldn't hate this. Heh. Considering that we only got sample servings, I still feel a little full that when I had my late lunch that day, I couldn't finish my meal.
Trimshake is a part of their ageLOC TR90 line which also includes three nutritional supplements–Jumpstart, Complex, and Cntrl.
Then we headed to the booth for Body Composition Analysis. We used a full-body composition scanner and the results were logged into our health monitoring sheet. It's a quick scan which instantly gives you your body composition in: weight, body fat percentage, visceral fat, basal metabolic rate (BMR), body mass index (BMI), body age, and skeletal muscle percentage. I was horrified to see my body age result, it's freaking 49! That's almost twice my real age. Huhu.
Next is BioPhotonic Scanning to measure skin carotenoid score (SCS). Nu Skin's Pharmanex BioPhotonic Scanner measures the carotenoid antioxidant levels in your skin. Basically, the higher your SCS, the better your overall antioxidant health. Sadly, I got a very low SCS which could also mean that I have a weak immune system.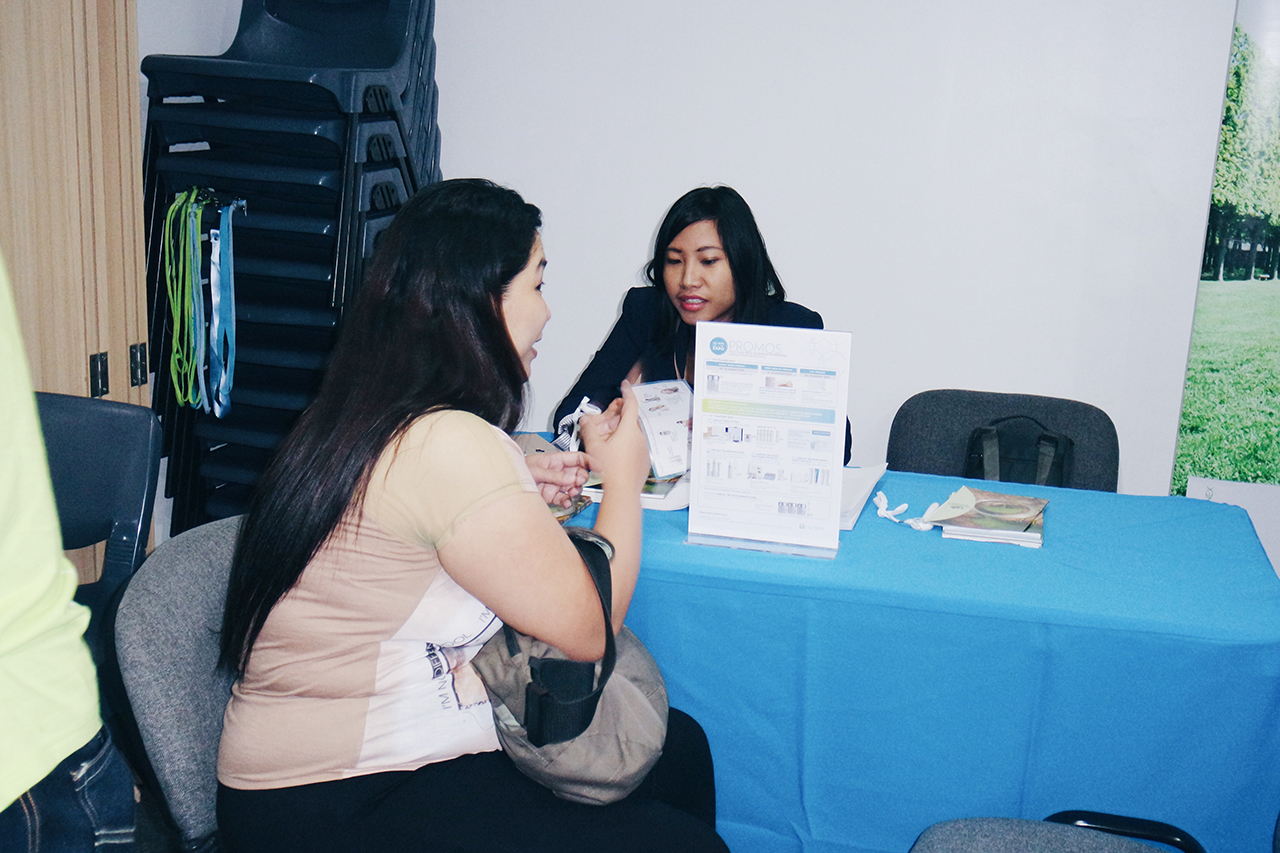 After all those scans, I felt worried as we headed to the last booth which is for Wellness Coaching. Thankfully, we got to sit with someone who explained everything to us–what those results meant and what we can do about it.
Sorry, I can't remember the name of the coach I talked to but he's also a long-time Nu Skin distributor and have tried the products himself. With his help, I learned that to increase my SCS, I just have to increase my fruit and vegetable intake. For my height, I have yet to lower my BMI in to attain my ideal weight. And while my stats for body fat percentage and visceral fat are higher than normal, I do have an above-average BMR. Hey, I have a fast metabolism, can you believe that?! Haha. And as for my outrageous body age, it's just based on my body composition. The good thing is this is still reversible through proper diet and exercise.
He also talked about their Weight Management and Body Shaping System (only because I was curious). Nu Skin's ageLOC TR90 System is a complete package and program that claims to get your in shape in just 90 days. They even have a discounted promo plus a free Body Composition Scanner during the Expo.
My coach answered all of my questions and gave me a lot of tips. He even showed me a before-and-after photo of him when he underwent the Nu Skin's weight management program. The results were impressive. He also emphasized the dedication and self-control required to achieve the goals in 90 days.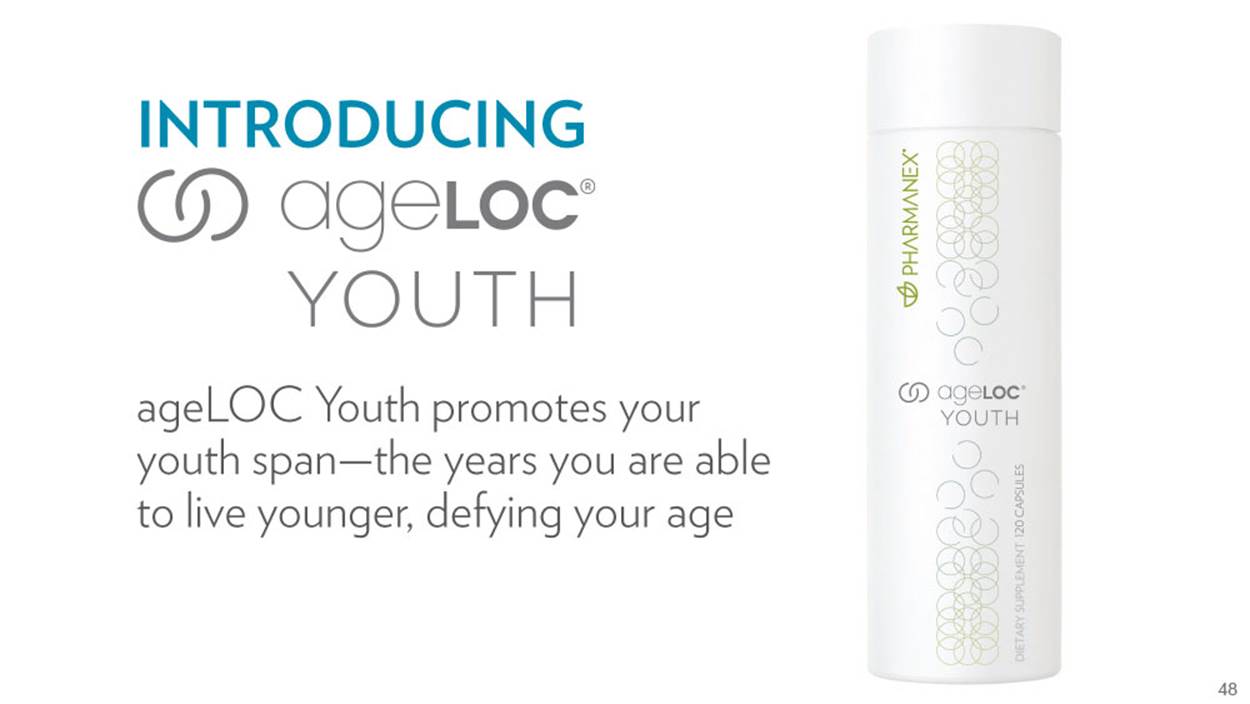 During the expo, they unveiled their upcoming product–ageLOC Y-Span–an anti-aging dietary supplement.
Overall, the Nu Skin ageLOC Expo was very relaxing and educational. Through this event, Nu Skin definitely lives up to their tagline–The Difference. Demonstrated. With demos, samplings, and consultations, being impressed and interested with their products is certain. I also love that they don't hard-sell. They may not be as popular as other direct-selling companies but they absolutely don't lack in service and relationship with their distributors.
Through this event, we got to tour their office and it was pleasing. They have a huge office with lots of facilities for their distributors to utilize; you don't always see that in all direct-selling companies. Just a short walk from SM Megamall, their location is very convenient. With 30 years of international success, this business is worth checking out.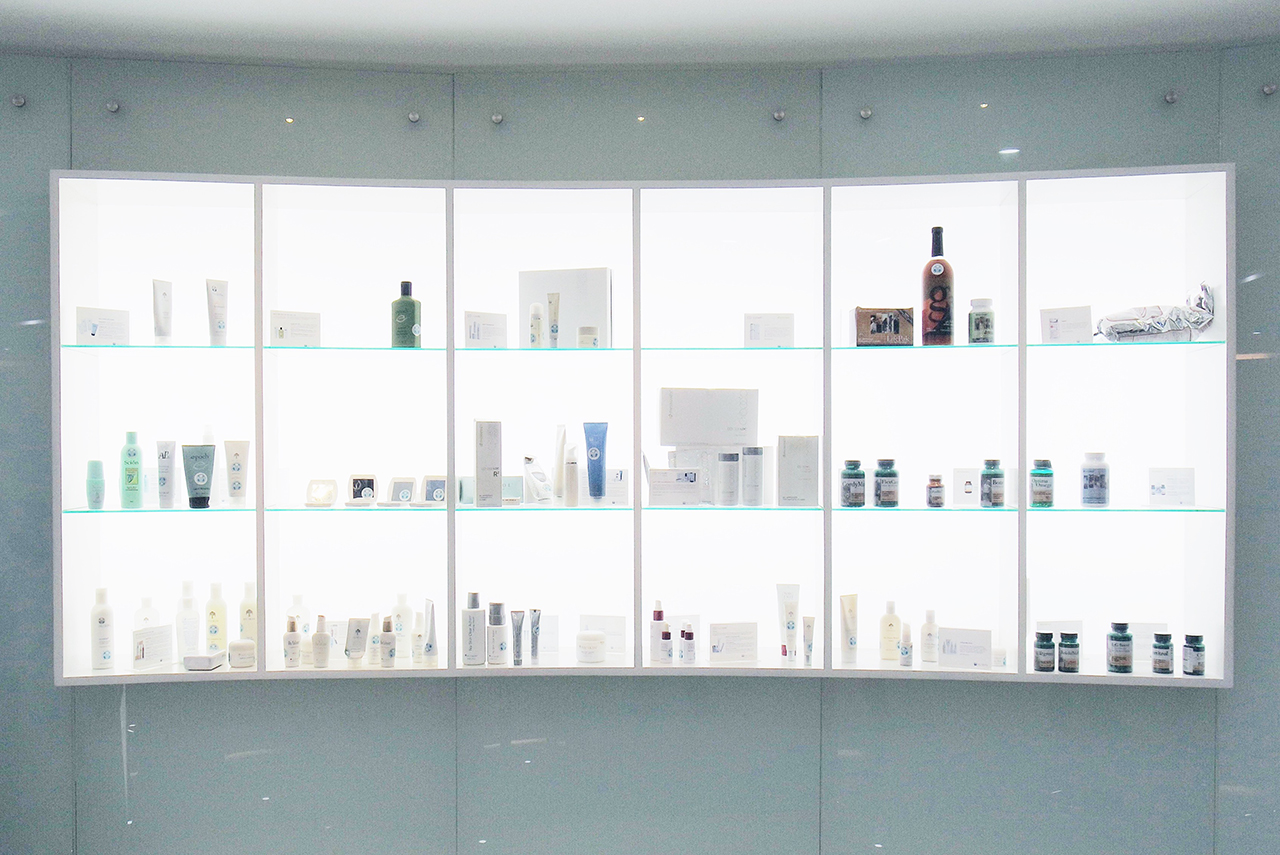 Nu Skin has a ton more products. For more information, visit their website at http://nuskin.com.ph. Follow them on Facebook: /nuskinphils and Twitter: @nuskinph.
---
I'm curious…
Have you tried any Nu Skin product?
How do you live young?
Let me hear your thoughts and leave a reply down below.
Also, if you liked/enjoyed this post, please share it with your friends using the social sharing buttons below.
---
Disclaimer: This is a sponsored post. I was invited to attend this event by Nu Skin Philippines through Nuffnang. I was compensated to attend the event and write this post. I also received one (1) free Nu Skin product as part of the press kit. All thoughts and opinion are honest, genuine, and written without prejudice.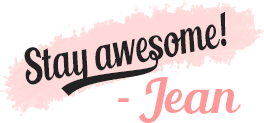 Related