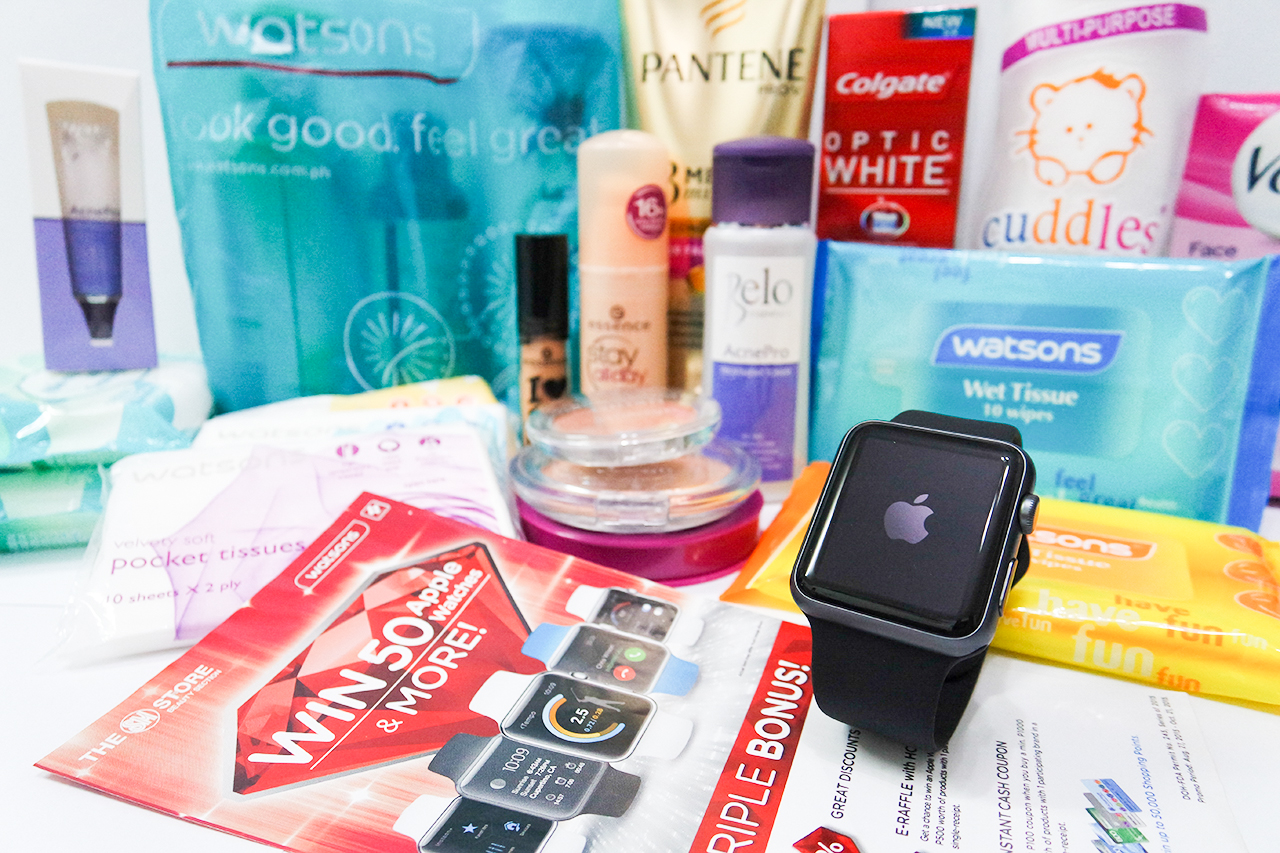 Last Tuesday, I attended the Watsons Triple Bonus bloggers event at SM Aura. They introduced their latest promo and the awesome prizes to be given away. Basically, the Triple Bonus Promo gives you great discounts, e-raffle with hot prizes, and instant cash coupon. And as part of the event, we were given Php 3,000 worth of gift certificates to shop at Watsons that day. Who could say no to a shopping spree? Not me! Heh.
I was surprised and happy to see lots of discounted products and buy-1-take-1 items. There's also a huge selection of participating brands and products that can get you a chance to win one of the 50 Apple Watches that they're giving away.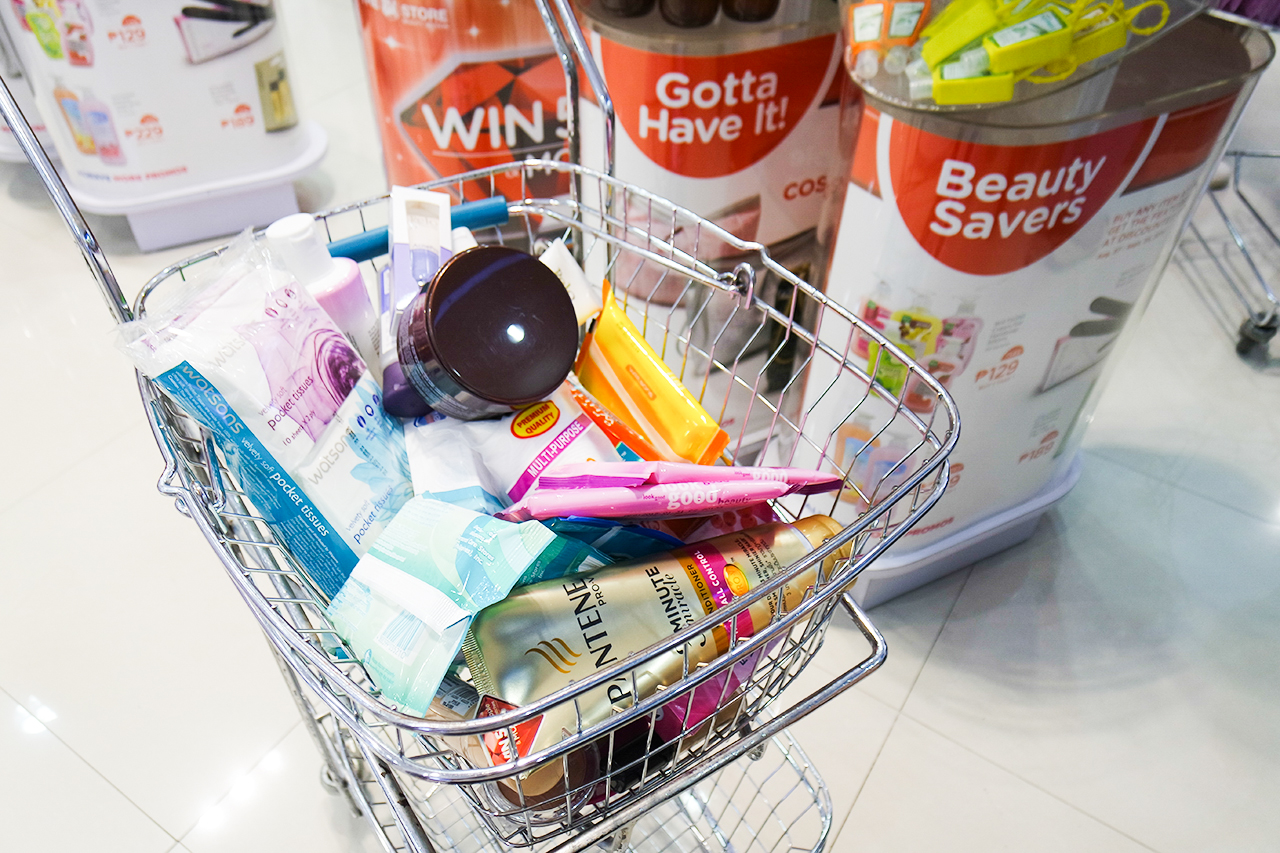 I went for practicality and shopped for essentials. I also got some makeup products, because, makeup! Hee. I enjoyed browsing different products and I think I actually went through every aisle and checked all the stands. And that's not really bad because I got to discover new and interesting products which, I believe, are worth trying out.
Whenever shopping for beauty and wellness products, I really love going to Watsons or SM Beauty Section because they have a wide variety of brands and products. I usually shop at Watsons SM North Annex because it's very accessible for me; though, I wish I could always go to their branch at SM Aura because it's huge and carries some brands and products which are not available at the former.
Watsons Triple Bonus Promo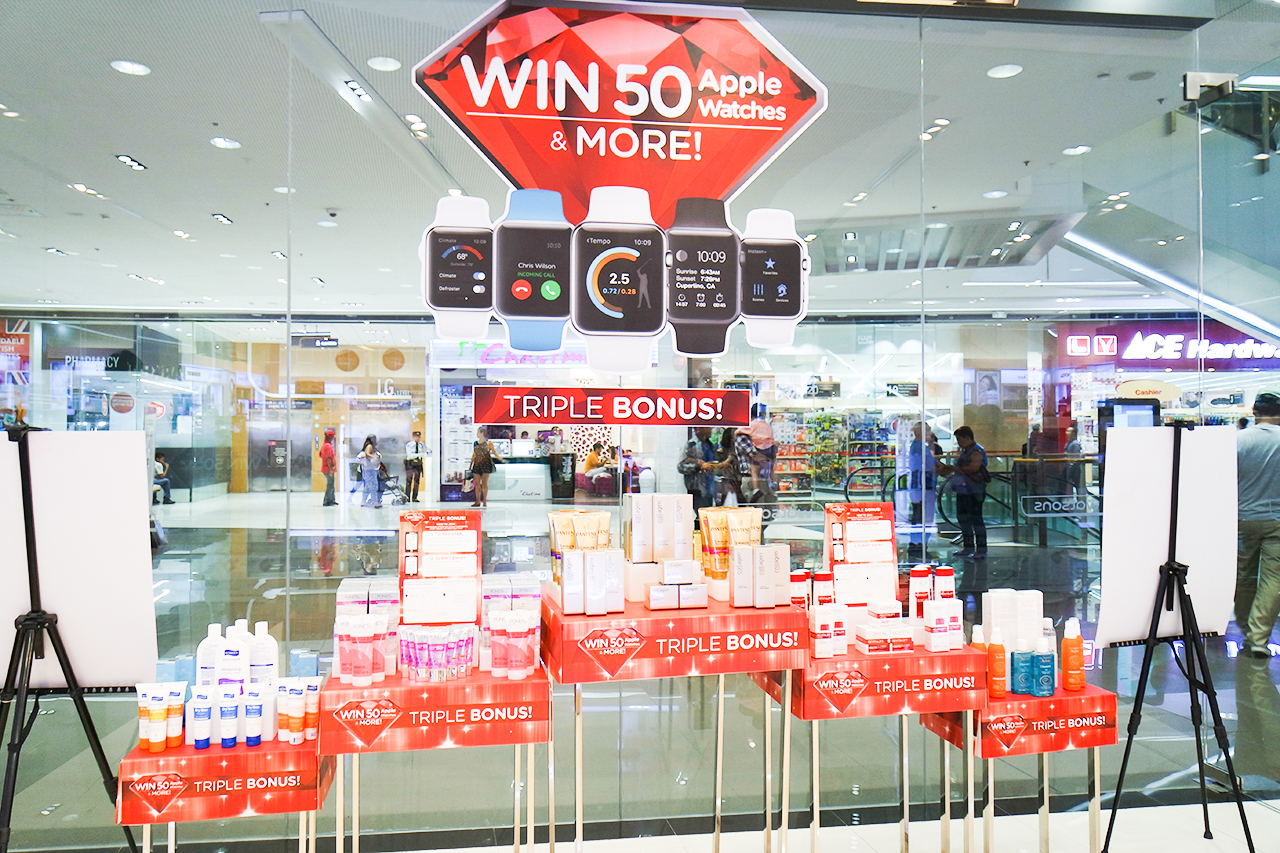 Alright, now let's talk more about this promo. As the name implies, you get to enjoy three kinds of bonus:
Great Discounts – As I've said, there are lots of discounted items. I love the buy-1-take-1 promo and that it applies to the practical/essential products. Some products also comes with free items.
E-Raffle with Hot Prizes – How hot you ask? As hot as an awesome gadget/accessory which is called the Apple Watch!!! You can easily get a chance to win one of the 50 Apple Watches for

every

Php 500 worth of products with one (1) participating brand in a single-receipt. They're also giving away Watsons gift certificates worth up to Php 10,000! YAY!
Instant Cash Coupon – Get Php 100 coupon when you buy a

minimum

of Php 1,000 worth of products with one (1) participating brand in a single-receipt. There's also some products that will give you instant Php 50 coupon.
PLUS, if you're an SM Advantage/SM Prestige/BDO Rewards card holder, you also get a chance to win up to 50,000 shopping points! What are you waiting for? Hurry and shop now at your favorite Watsons branch and/or SM Beauty Section because this promo ends on September 27, 2015! And don't forget to register your entry!
For full promo mechanics and registration information, click this link that will lead you to the Watsons website and Triple Bonus page.
I won an Apple Watch!
Yes, I actually did; it was in that box which I'm holding in the photos. Hee. It was also part of the bloggers event to have a raffle for one Apple Watch and I was lucky enough to get picked as a winner. YAY!!! Thank you so much Watsons!
Apple Watch
Now, let's take a moment to talk about the Apple Watch and why everyone wants one. Apple Watch is more than a watch; it tells time and does so much more. It's a smartwatch, powered with apps, that syncs with your iPhone to make your daily life a little better.
Send and receive messages via call, SMS, or SNS through sketch and smart replies. Sketch allows the user to draw simple patterns in their watch which they can instantly send to a friend and smart replies feature suggests pre-written messages based on the previous conversation you had with the person.
Apple Watch provides a comprehensive overview of your daily physical activity by monitoring and suggesting fitness goals and rewarding you with virtual badge every time you achieve a milestone in your workout.
Apple's new Taptic engine improves one's travel experience, it buzz wearers with different kinds of vibrations when they need to turn left or right. This feature can also be used to send other Apple Watch users a jolt or one's heartbeat and other notification.
Isn't that great? I also heard that you can install games on Apple Watch. Now that's a really cool watch!
Again, what are you waiting for? Hurry and shop now at your favorite Watsons branch and/or SM Beauty Section. Good luck!
---
To know more about the Watsons Triple Bonus Promo, visit their website and social media accounts:
Website: http://watsons.com.ph/
Facebook: https://www.facebook.com/WatsonsPH
Twitter: https://twitter.com/WatsonsPH
Instagram: https://instagram.com/watsonsph / https://instagram.com/smbeautyph
---
I'm curious…
What is your favorite Watsons branch?
What do you think of the Apple Watch?
Let me hear your thoughts and leave a reply down below.
Also, if you liked/enjoyed this post, please share it with your friends using the social sharing buttons below.
---
Disclaimer: This is a sponsored post. I was invited to attend this event by Watsons Philippines through Nuffnang. I was compensated to write this post. I also received Php 3,000 worth of gift certificate to shop at Watsons, as part of the event activity; and won an Apple Watch at the raffle. All thoughts and opinion are honest, genuine, and written without prejudice.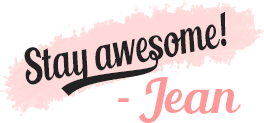 Related